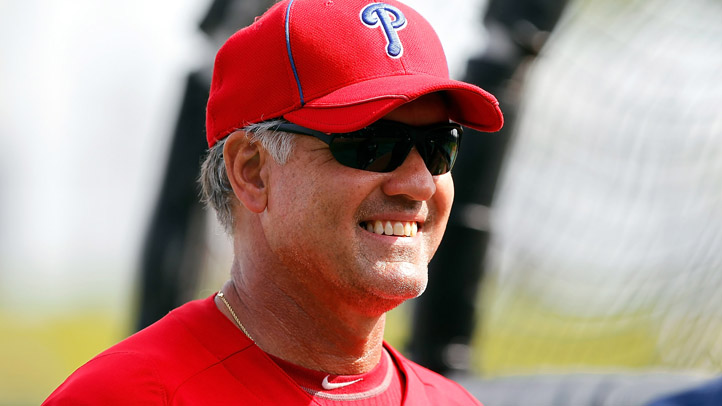 Phillies fans -- this blogger included -- afraid that the Phightins would for a second time watch Ryne Sandberg leave the organization could breathe a sigh of relief Monday.
The Hall of Famer is remaining with the organization after being rumored to be up for the Cardinals managerial job. Instead of heading to the majors, Ryno will season for at least one more season down on the farm and at least one more season as a possible heir-apparent to Phils skipper Charlie Manuel.
Sandberg is back as the manager of the Phillies Triple-A affiliate Lehigh Valley IronPigs, the team announced Monday afternoon.
Sandberg's entire staff including coach Sal Rende and pitching coach Rod Nichols also will return, the Phillies announced.
The Hall of Fame second baseman (most of the years spent with the Cubs after the Phillies traded him away as a rookie) has found success as a player and manager in baseball. He led Lehigh Valley to the International League playoffs as the wild card after leading the team to an 80-64 mark in his first season with the team.
Sandberg is checked off as being back with the Phils and a slew of other former Phillies will also be back in the Phillies family.
Former Phillies second baseman Mickey Morandini moves from managing Single-A Williamsport to Single-A Lakewood while former Phillies minor league catcher Dusty Wathan moves from managing Single-A Clearwater to Double-A Reading.
Also ex-Phils Andy Tracy and Aaron Fultz were added to the Phillies' player development staff while Ricky Jordan is back coaching for the Gulf Coast Phillies, the team announced.