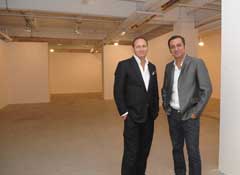 The war of words is heating up between two public libraries 1,500 miles apart, as dueling librarians do their part to boost their hometown baseball team's quest to win the World Series crown.
Sounding a bit Shakespearean, Liesl Christman, the Twitter czar for the Kansas City Public Library, tweeted on Wednesday morning, hours after the San Francisco Giants crushed the Royals in Game 1 on Tuesday, 7-1: "'Tis but a flesh wound - @Royals will rally! Tonight, #LetsThrowFire!"
If the Giants win it all, Christman promised Wednesday her library will buy and shelve San Rafael author Dan Fost's book, "The Giants Baseball Experience: A Year-by-Year Chronicle from New York to San Francisco."
If the Royals win, Christman hopes the San Francisco Public Library will be forced to stock George Brett's "From Here to Cooperstown," which is about the Royals, on its shelves.
Michelle Jeffers, the digital guru at the library in San Francisco, said she'd consider the request, but from what's she's heard, that book is out of print.
"Even better!" Jeffers joked, adding that under different circumstances she and Christman might be very good friends.
Then Jeffers tweeted: "Guess we'll see what happens tonight when the Giants shhhhhhh-ut you down in Game 2."
No one is happier about the librarian smack talk than Fost, a former San Francisco Chronicle reporter who is now a full-time author and freelance writer. Each time the Giants make it to the World Series – this is third time in five seasons – he is asked to write a new edition. "This is a mutually symbiotic relationship," he said on Wednesday.
As for the baseball book bet, Fost is also genuinely enthralled Kansas City readers may be flipping through pages he wrote.
"What a great idea to promote reading," he said. "I'm so moved."