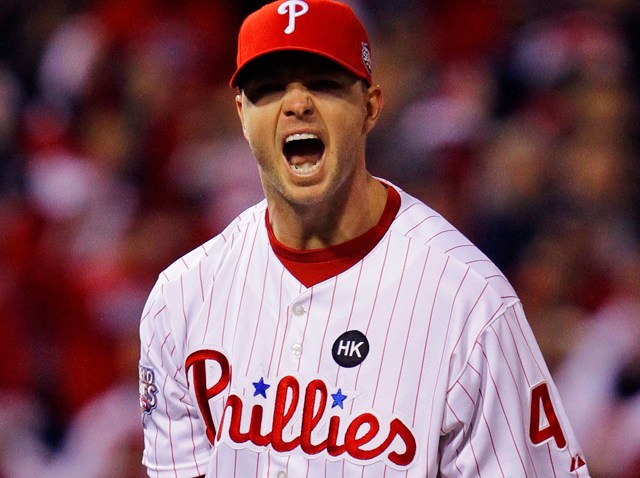 When we first learned that Brad Lidge was to begin the season on the disabled list last week, it was safe to presume that most of us penciled in Ryan Madson as the de facto closer until Lidge's return.
It made sense, as he's by far the best arm in the 'pen, has experience closing in the past, and is heavily favored to take over closing duties in 2012 if he returns (he is a free agent after this season) and if Lidge doesn't (he has a team option).
Not so, says MLB blogger Todd Zolecki, who writes about some comments that Phillies pitching coach Rich Dubee made concerning Mad Dog, specifically about his mindset and whether or not he is prepared to do it over the course of the season.
"I don't think so," [Dubee] said. "Ryan Madson is Ryan Madson. What did he do? Take a crash course in how to close? We're in Spring Training here. ... I think the game speeds up on him sometimes. He doesn't get to the same comfort level. There's a little anxiety there. The ninth inning is a little different than the eighth. There have been (solid) eighth-inning guys that haven't been able to pitch the ninth. One day they learn how to do it."
I'm all for openness and honesty from the coaches when speaking about their players, as opposed to the often vague and complimentary comments that are typically tendered (Andy Reid, ahem), but I can't get behind Dubee's surprisingly candid assessment of Madson, who is the obvious choice to hold down the ninth inning.
Zolecki goes on about how Jose Contreras is the likely choice for the ninth, and based on Dubee's comments, it's hard to disagree. However, Contreras isn't demonstrably better suited to handle the ninth than Madson, despite a very solid 2010 campaign, where he posted a 3.44 ERA with four saves and 9.1 strikeouts per nine in his first full-time action as a reliever in his career.
And as Dubee said, Madson IS Madson, who has been dominant since moving to the bullpen in 2007 (3.01 ERA, 8.4 K/9) and is the most likely going to be Ruben Amaro, Jr.'s choice to take the reins from next season. As such, it makes perfect sense for him to take the "crash course" in closing in 2011, so we aren't having this same conversation again next year.