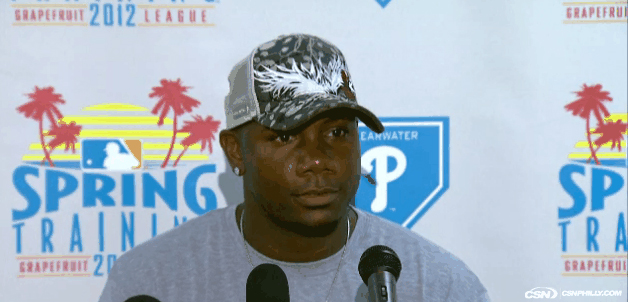 Phillies first baseman Ryan Howard spoke to the media for the first time this Spring earlier Wednesday, talking about his torn Achilles' tendon. In a press conference at the Phillies spring training facility in Clearwater, Fla., Howard addressed a lot of questions, from his recovery to taking batting practice with teammates earlier in the day to the return of Jim Thome.
"I feel good where I am right now," Howard said about the injury. "I don't know what everybody else's expectations for me were, but I feel good. I'm not exactly where I want to be yet. Obviously the goal is to get out there as soon as possible, but with this I'm just listening to my body. I've been talking with the training staff and doing baseball type movements."
Howard, who tore the Achilles' tendon in his left foot while running to first base in the final game and the final out of the 2011 Phillies season, hasn't spoken to the press since that time. Philadelphia Inquirer beat writer Bob Brookover said Howard looked "impressive" in batting practice earlier in the day. As for when Howard will return to the Phillies, he put no timetable on it.
"I will listen to my body and see where we are, he said." He did add that he may not have full-strength until possibly the All-Star Break. For more from Howard, tune to NBC10 News at 5pm Wednesday.