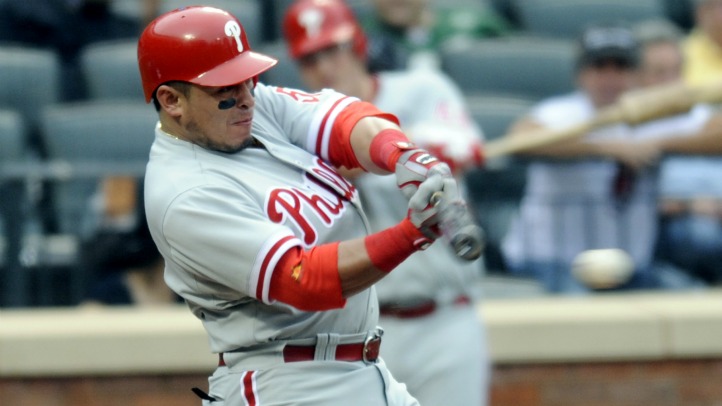 Good news, Philly fans -- Carlos Ruiz will be back for (at least) one more season, as the Phillies announced earlier this week that they will be picking up the catcher's option for 2013, according to Jim Salisbury of CSNPhilly.com.
It was a no-brainer for sure, as Ruiz has not only been a reliable backstop and playcaller since he took over the role of starting catcher in 2007, but an offensive weapon, as well. That culminated in his brilliant 2012 season, where he hit 16 homers with a .325/.394/.540 line en route to his first All-Star Game.
Chooch, who led the Phillies in batting average, on-base percentage, slugging, and OPS, was the backbone of the offense for most of the season -- while Chase Utley and Ryan Howard recuperated from their injuries -- until Chooch himself was slowed by a foot injury.
It was a banner year for the 33-year-old, who set career highs in just about every offensive category. And despite missing a chunk of time due to injury, he still managed to be one of the most valuable catchers in the National League, finishing second to San Francisco's Buster Posey in OPS.
That performance came at a bargain of $3.7 million in 2012, and his 2013 option getting exercised means that he'll only get a slight (in a relative sense) increase in salary -- to $5 million -- next season. And even if he can't hit at a similar clip next year, he figures to be a steal at that price.
However, it will be his last season with the Phillies under this current contract. And while we'd like to see a lot more of Chooch following next season, it remains to be seen whether or not the Phillies will bring the soon-to-be 34-year-old catcher back for 2014 and beyond.