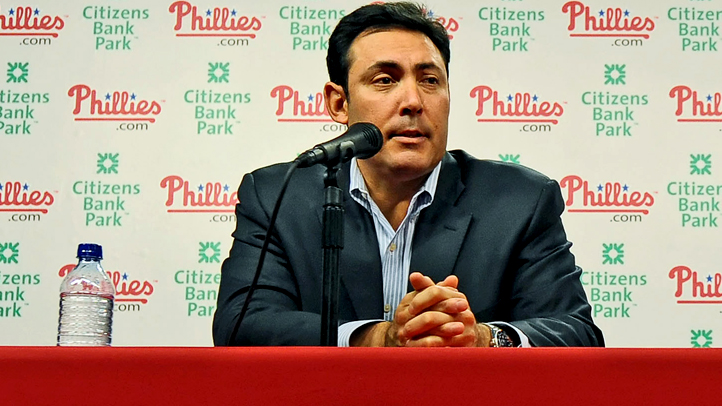 Since Charlie Manuel was fired last month, it made sense to wonder about the future of General Manager Ruben Amaro, and whether or not his job is long for this world. While there has been no indication that he was on the chopping block, especially with the Phillies heading for their first losing season in over a decade, his dismissal wouldn't have been a surprise.

But Amaro's tenure with the Phillies is going to continue, at least according to team president Davind Montgomery, who had some comments for The Inquirer's Matt Gelb.
INQ: Given that chain of command, Ruben is under contract next year, but will he be back?
DM: Oh, Ruben is our general manager.

...

One of the things Ruben has done well is, we make decisions. That's a good thing. Where you get in trouble in life is if you start to think you should make decisions and the people working for you should support your decision. We listen to the opinions of others and then we make decisions together, that's a good thing. It's probably one of the best lessons Ruben learned from Pat. One of Pat's strongest attributes as a general manager was he was a good listener. He wanted to make sure everybody expressed their opinion on a potential deal or talent evaluation or projection. Ruben has done well with that.


Before I get into my thoughts on Amaro sticking around for another season, I just want to point out that David Montgomery, the president of the team, said that one of Amaro's better attributes is his ability to make a decision. Even when some of them have turned out to be absolutely horrifying. I suppose there is some value in pulling the trigger – especially when the entire organization is riding on those decisions – but one's ability to simply make a decision shouldn't automatically be listed as an attribute. Unless, of course, Montgomery simply had nothing nice to say about Amaro, and that the first thing that came to mind was "the guy sure knows how to make a decision." It's like asking if a rock band is any good and all you can muster up is "gee, the front-man sure can yell real loud."

At any rate, it's not a surprising turn of events, because anything short of a season worse than what the Houston Astros are currently having would pretty much guarantee that Ruben Amaro would have a job next year. While the last 18 month have been pretty rough on Phillies fans, Amaro does deserve some credit for being the architect behind some of the greatest teams in the history of the franchise.

That's not to suggest that he isn't without fault, because as much as he had to do with those teams, he equally shares the blame. For every good move, there's been a bad move. He traded for and signed Roy Halladay, but he handed Ryan Howard a costly contract extension when it was almost totally unnecessary. He traded for Cliff Lee, but he also traded him six months later and got practically nothing in return. He signed Cole Hamels to a long-term contract in his prime, but he gave Jonathan Papelbon $13 million a season to pitch 60 innings. He turned J.A. Happ into Roy Oswalt, but he also traded away a small army of prospects for a season's worth of Hunter Pence.

All of that to say that Amaro is guy who was handed his father's sports car and was given one very important direction: don't wrap it around a tree. Well, here we are, and the Phillies team that won five straight division titles is limping along for the second straight season, thanks to an aging (and expensive core) and a farm system that would bear fruit had it not been pillaged in the name of acquiring top talent along the way.

I'm about as big a detractor of Amaro as anyone, but if a season as bad as this one is what it takes for him to change the way he does things, then it's worth it. The odds of Amaro being fired this season were pretty remote, anyway, so the only thing we can hope for is that he comes around and figures out a new way of doing things (signing guys like Delmon Young is not it) in order to get the Phillies back into the thick of things. Focusing on international free agents, like Cuban defector Miguel Alfredo Gonzalez, and admitting that they need to be more analytical in how they manage the team is a step in the right direction.

When Charlie Manuel was relieved of his duties last month, it took the heat off interim manager Ryne Sandberg, and put it squarely onto Amaro. Firing the GM is the next logical step once you fire the manager, and Amaro is smart enough to realize that. Let's hope he acts on it.