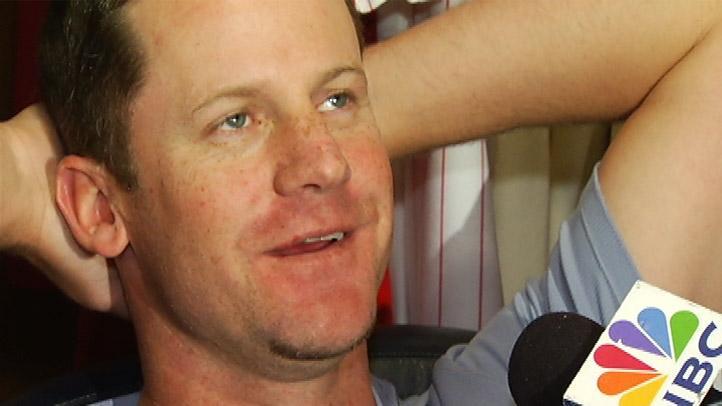 Coming soon to a pitching mound near you -- The Four Aces!

The vaunted starting rotation of the 2011 Phillies, which consisted of the likes of Roy Halladay, Cliff Lee, Roy Oswalt and Cole Hamels, has recently fallen on some hard times, thanks to a balky back from Oswalt that forced him out of action and onto the disabled list earlier this season.

At the time, it sounded like the veteran righty would be out of commission for the long haul, but that appears to not be the case, as he is currently wrapping up his minor league rehab tour, in hopes of being back with the team in the very near future.

David Murphy has the skinny on Oswalt's final tune-up start:
Oswalt went six innings in a rehab start for Triple-A Lehigh Valley Monday night, allowing two runs on seven hits. His fastball was consistently 90-91 and occasionally hit 92. He threw 90 pitches, 61 for strikes.

He's expected to rejoin the team in Denver on Tuesday, throw a bullpen in San Francisco on Thursday and then start against the defending world champion Giants on Saturday or Sunday.

The return of Oswalt would undoubtedly be a boon for the Phillies – not that they need it – as they gear up for their final stretch run of the season. If you'll recall, it was around this time last year that Roy joined the team, after which he went 7-1 with a 1.74 ERA in 13 starts.

It's as good as any trade that the Phillies could have made, as Oswalt is a more than significant upgrade over Kyle Kendrick, whose spot he is expected to take in the rotation. Of course, his return to the team is only going to prove to be effective if he is completely healthy and if he can get back to setting down hitters via the strikeout.

Before taking a trip to the disabled list in June, Oswalt was striking out hitters at a career low 5.3 K/9. It was no small coincidence that his dip in punchouts occurred right around the same time that his back began to trouble him.

While it might be a stretch to suggest that he will return to his dominating ways, even a less-than-effective Oswalt should prove to be a huge boost for a club that is already leading the Majors in wins and that is well on their way toward their fifth straight postseason appearance.