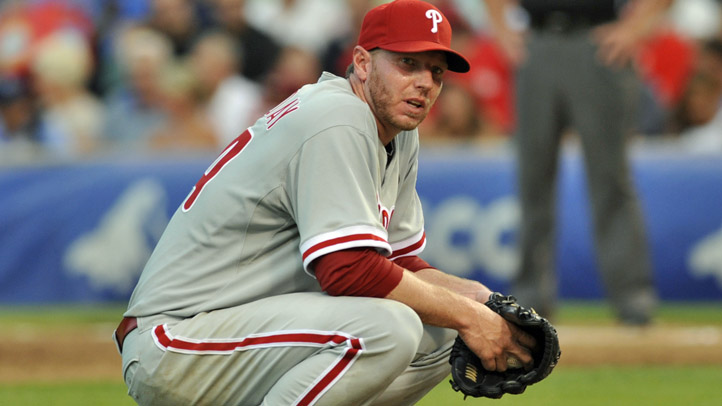 Maybe Roy Halladay is human after all.
The Phillies ace seemingly never got comfortable during a steamy night in Chicago Monday as the Phillies lost to the Cubs 6-1.
With temps at Wrigley Field hovering around 92 degrees with high humidity, Doc gave up a first inning homer then labored through a 30-plus pitch third inning surrendering two runs while slowing down his pace noticeably.
In between innings, Halladay could be seen in the Phillies dugout changing his jersey.
Doc recovered to cruise through the fourth before running into more trouble in the fifth.
I'll let the AP pick it up from there:
Halladay doubled over after allowing Starlin Castro's leadoff single in the fifth inning, then was visited by a trainer. Drew Carpenter came in to replace him.

The right-hander was drenched in sweat... The Phillies said the heat was responsible for Halladay's shortest outing since he pitched three innings for Toronto against Florida on June 12, 2009.
"He got a little dizzy," manager Charlie Manuel said. "We were a little concerned about dehydration, brought him in here and got (the Cubs') doctor and he was looking at him."
Doc threw 69 pitches before leaving. He had gone 63 straight road games pitching at least six innings.
The start was Halladay's first since he started for the N.L. All-Stars last Tuesday.
Luckily he is expected to be OK and make his next scheduled start.
The Phillies only run came on a solo homer by Jimmy Rollins to lead off the fourth.
Former Phil Rodrigo Lopez (2-2) allowed just that one run over 6 2/3 innings to earn the win.
The Phillies try to get back on the winning track when they send Cliff Lee (9-6, 2.82 ERA) to the hill Tuesday night against righty Matt Garza (4-7, 3.97).