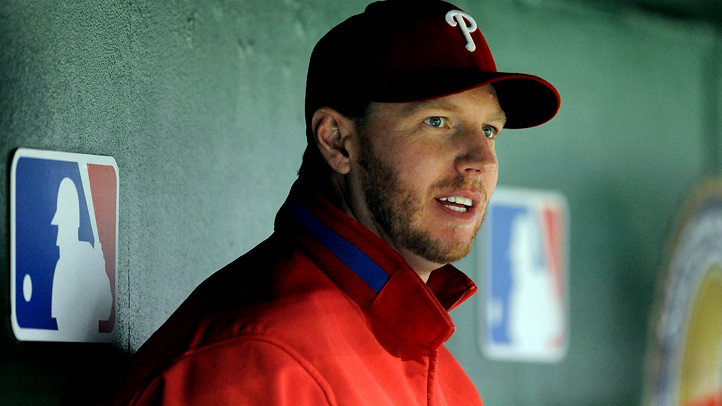 I know you Phillies fans are all excited about the team potentially winning the World Series this year, but I have something even MORE exciting for you to chew on: Roy Halladay is up for two ESPYs tonight! TWO! OMG! That's like being in the World Series TEN times! I don't even know why they bother to play sports anymore when the ESPYs are there to tell me which athletes are superior to which, and does it all with Seth Meyers making obvious jokes periodically throughout! Regular sports are boring. But the ESPYs are sports AND media whoring! You can't get any better than that!

Anyway, let's take a look at how Roy stacks up against his fellow nominees tonight. The first category is BEST MLB PLAYER. Which is like the MVP, only better because Stuart Scott says it is.

Jose Bautista, Toronto

Who? What? I don't think so. You're telling me this award should be won by someone on a Canadian team? Since when does Canada symbolize the gross excess of self-adoration that ESPN stands for? Also, I read that Bautista suddenly starting hitting home runs because he learned to swing earlier. Sure, buddy. Sure you did. CHEAT.

Josh Hamilton, Texas

He gets enough praise already from everyone for coming back from drug addiction in a dignified and responsible manner. AMERICA IS OVER YOU, JOSHUA.

Felix Hernandez, Seattle

Did you know Felix Hernandez secretly vandalizes railroad cars in his spare time? It's true. (NOTE: Not true.) Do we really want someone like that representing the tradition and integrity of the ESPYs? I think not.

Joey Votto, Cincinnati

Whatever. LOSER.

Roy Halladay, Philadelphia

ABSOLUTE SLAM DUNK WINNER OF THIS AWARD AND ANYONE WHO QUESTIONS IT DESERVES A FASTBALL RIGHT IN THEIR ORBITAL SOCKET.

Now, for the other category, which is BEST MOMENT…

Fennville HS Basketball Team, High school basketball tournament run

No way. That's high school sports. Random freak miracle things happen in high school sports because high school athletes are small and weak and stupid. You kids really think your moment is better than Ray Halladay's no hitter in the playoffs? Why don't you step up to the plate and see just how well your pointless little high school title mean to the Doc. He will ruin you.

Trevor Bayne at Daytona 500, NASCAR

Okay, I'm outraged this is even a nominee. They just threw this moment in here so NASCAR fans wouldn't complain. So easy to appease them. Just throw them an ESPY nod and a bucket of Cajun fries and they clam right up. No one cares.

Roy Halladay Postseason No-Hitter, MLB

Is there even a question? If Roy doesn't win twice tonight, this whole stupid award show is rigged by the judges.