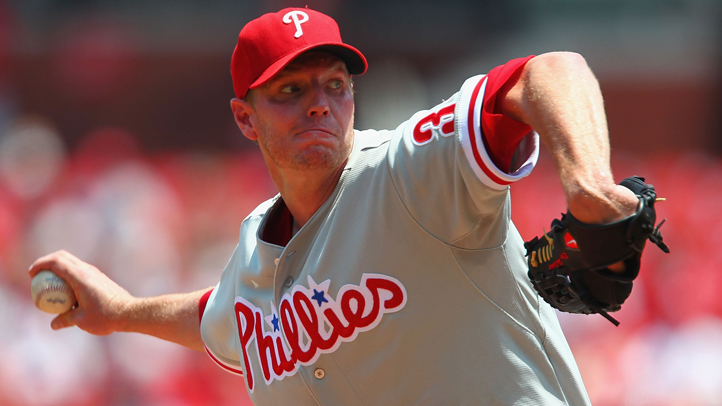 Some reinforcements might be on the way for the Phillies, as Roy Halladay is scheduled to make a minor league rehab start this week. The Ace right-hander hasn't thrown a pitch in the big leagues since May 27, when he was pulled after two innings in a start against the St. Louis Cardinals.
From Todd Zolecki over at Phillies.com:
Phillies right-hander Roy Halladay could make a rehab start Thursday with Class A Clearwater. He is headed to Florida after Sunday's series finale against the Braves at Citizens Bank Park.

Halladay, who has been on the disabled list since May 18 because of a strained right latissimus dorsi, is scheduled to throw his fourth bullpen session Tuesday in Clearwater. If that goes well, he would make a rehab start Thursday.

Halladay could rejoin the Phillies' rotation in time for the July 16-18 series in Los Angeles against the Dodgers.


It's one of the few good things that we've heard about the Phillies over the last few weeks, and it will mark the third big piece of the puzzle to return from the disabled list (after Chase Utley and Ryan Howard), as the Phillies slowly nurse their entire team back to health.

I've got some mixed feelings about this. Don't get me wrong, I'm thrilled that they'll get their Aces back, and that he will make the rotation deeper (and thankfully spare us the anguish of having to watch one of either Kyle Kendrick or Joe Blanton) and more effective. It could give them a much needed shot of Vitamin C, and with Halladay back (assuming he is back to his old self), it means that the bullpen needs to be relied upon less. That is a good thing.
Plus, the fact that he is coming back before the trade deadline - and not after - means that they might be less hesitant to sell if they think that his return will have a significant impact over the second half of the season.

On the other hand - and I had this thought when Ryan Howard came back – it seems like they might be rushing him back. Given Doc's age (35) and the nature of the injury, I wouldn't mind too much if the Phillies erred on the side of caution and let him take his time in his rehab. After all, they are 13 games under .500 and quite a long way from the top of the division, so Doc might be more valuable next year than this year. That means taking it easy on him the rest of the way, especially if the Phillies are out of the race.

Ultimately, Doc knows his body better than anyone else, and if the man says he is able to return, then I'll take him at his word. Let's just hope that he can make a difference.