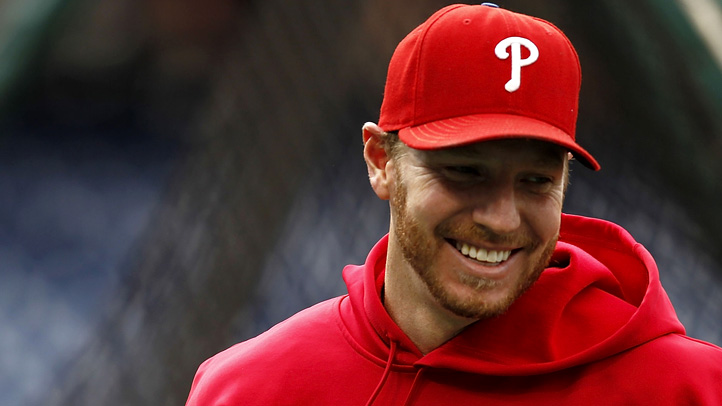 Cancel the rest of the season, Philadelphia fans, for in a year when your team is very much a favorite to win the World Series and when Osama bin Laden's death was publicly announced during a Phillies game, surely there can be no greater triumph than this: Roy Halladay won two ESPY Awards last night! Not one, but TWO! That's like winning TWO MVP awards, if the MVP was handed out by a bunch of backslapping ESPN execs who possess little to no self-awareness of how just thoroughly revolted America is with the network's self-aggrandizement!

Halladay swept (if it's more than one category, I declare it a sweep) the two categories he was nominated for, just as I predicted yesterday. He won Best MLB Player, beating out the likes of Jose Bautista and Josh Hamilton. BETTER LUCK NEXT TIME, LOOZERS! DOC HALLADAY JUST MADE YOU TASTE THE INFIELD!

He also won Best Moment of 2011 for his playoff no-hitter. Not just the best baseball moment of 2011. No, no. The best moment of 2011 in ALL of sports, besting NASCAR driver Trevor Payne's Daytona 500 win and something to do with the Fennville high school basketball team. I dunno. It was a slow year in sports, I guess. But whatever. WE DID IT. We showed those NASCAR drivers and high school kids that their moments mean NOTHING compared to Halladay curb-stomping the Reds back in the fall. EAT IT, REST OF SPORTS! Halladay dominated you last night without even throwing a single pitch. THAT is just how much of a warhorse he is.

Anyway, now that Halladay has brought the ESPY title home, I suppose that he can go about winning the Phillies a championship and all that. But really, will anything ever taste as sweet as Halladay taking home two oddly shaped alien probe trophies while Seth Meyers makes poor Yao Ming jokes in the background? I think not. October is already a letdown.