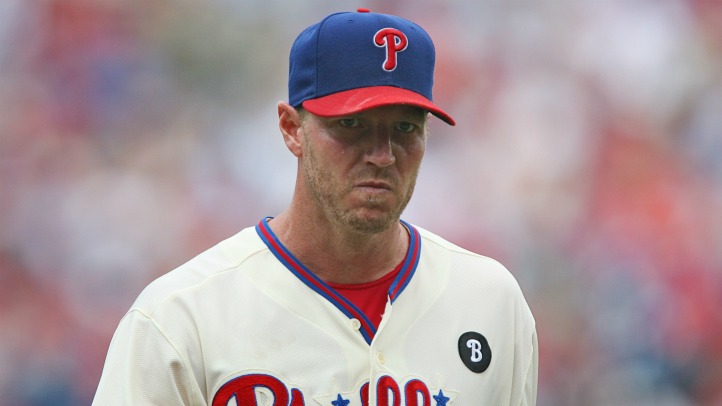 In the offseason, things to write about can be few and far between. It seems like news of trades or free agent signings come in bunches, and as soon as they appear, they vanish, leaving you with nothing but the flotsam and jetsam of other, better rumors.
So this morning, I was pleased to read a story about Roy Halladay's recent fishing venture, one that he shared with friend and St. Louis Cardinal pitcher Chris Carpenter. At first, I expected little more than an anecdote about how the off-the-field-friends snagged a halibut off the coast of San Diego, while they humorously compared their fishing acumen to their pitching prowess.
What I got was something much, much more interesting, intriguing, and perhaps most important of all: dangerous.
As it turns out, Roy and Chris (along with former MLB pitcher B.J. Ryan) recently returned from a fishing excursion with professional fisher extraordinaire Skeet Reese. Only this trip wasn't to some man made lake in the Midwest, but to the Amazon. That Amazon.
Reese blogged about the experience, and went into some detail about the weather, the conditions, and so forth, but the craziest part of all involves himself, Halladay, and an Anaconda. I'll let Skeet tell the rest:
Me and Doc Halladay even came across a local, sitting bare naked on a tree by the river. What we were able to figure out is that he was fishing in the river for tropical fish to sell for aquariums when he got attacked by an anaconda.

The snake apparently bit him on the ass but he was able to free himself before the snake wrapped him up. Instead the snake wrapped around his motor on the back of his little 14-foot dugout canoe and tore it off the back of his boat. Doc and I helped him gather his gear and flip the boat back over and then towed him home. You could definitely see the bite mark on his ass, but he was able to fight it off; amazing.
Not only is Roy Halladay the best pitcher in the Majors, but he also takes time out of a well earned vacation to fight off killer snakes. Can you imagine the thought process of the hitters next season? "Oh great, not only does he throw all 11 pitches for strikes, but he battles giant snakes because he is apparently without fear. I think I'll just become an accountant."
The most entertaining take of this comes from ZooWithRoy.com, arguably the web's best abstract-humor Phillies blog slash shrine to all things Roy Halladay:
Roy Halladay, Phillies ace, tireless humanitarian, workout warrior and bolg muse is BATTLING GIANT DEADLY ANACONDAS IN THE AMAZON DURING THE OFFSEASON. I can now never quit this bolg. You know that, right? Also, local natives are now left to ponder the circumstance that led to a puzzling face-less anaconda in their waters.
The block quote really can't do it justice, so I recommend that you head over there and read his recap yourself, because you're in for quite a treat. While you're there, read everything else and thank me later.
But really, when you think about millionaires on a boat, the image conjured up typically gravitates towards middle-aged men, adorned in blue blazers and perched in high-back leather chairs, drinking expensive brandy while adjusting their golden loafers, which is about as far as you get from "fighting off snakes with oars in the middle of South America."
Dan O'Sullivan at AdvancedAngler.com caught up with Doc:
Halladay said the whole experience was worth more than he paid for it. "This was the best fishing trip of my life," he said. "Good friends, great atmosphere and good fishing; I'd pay double to do it again."
O'Sullivan said that Reese and Halladay became friends after the Phillies treated Doc to a fishing trip following his perfect game. He also posted a photo of Doc and Reese with a humongous fish.
What has *your* Ace done lately?
That's what I thought.