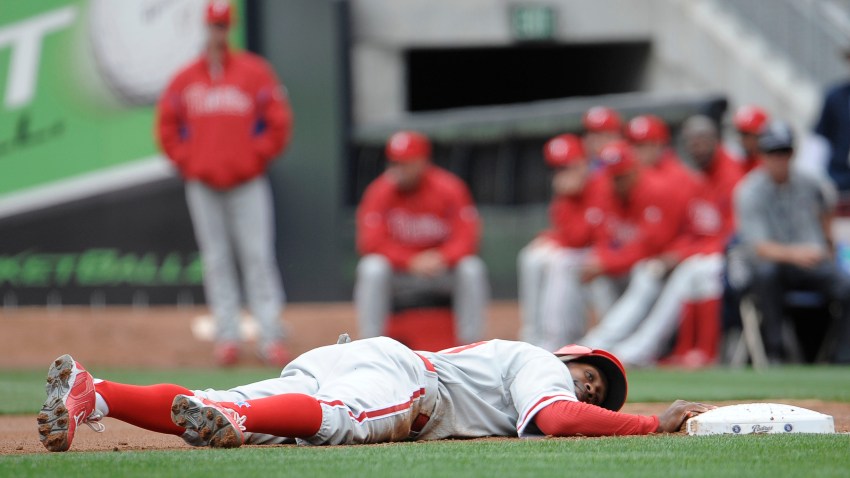 There are good weekends, there are bad weekends, and then there are weekends like what the Phillies had in San Diego.
After dropping two of three to the San Francisco Giants, the Phillies pulled into San Diego -- where they hadn't lost a game in three seasons -- for a four-game set against the lowly 3-10 Padres on Thursday night.
The Phillies took the first two games o f the series, thanks to brilliant pitching performances from Cole Hamels and Vance Worley, but fell in the final two games of the series, where they managed to score two runs over the losses on Saturday and Sunday.
On Saturday, Roy Halladay was uncharacteristically wild, the offense was about as good as you'd expect, and the Padres downed the ace 5-1 to avoid going down 3-0 in the series. With a chance to take their second series of the season on Sunday, the Phillies committed three errors and could only muster one run on the eight hits off of the Padres' pitching, losing 6-1.
Joe Blanton, who pitched well enough, couldn't be bailed out by the bats, which once again proved to be incapable of doing anything productive, despite numerous chances in the early innings.
The biggest goat of the weekend was Hunter Pence, who went 0-for-8 in the two losses, while leaving seven men on base. In Sunday's game, a pair of defensive miscues directly led to three Padres runs, which was more than enough to bury the anemic Phillies. The right-fielder is now batting .258 on the young season.
If splitting a series with the Padres isn't bad enough, the team got word on Saturday that ace lefty Cliff Lee, who was one of the few saving graces to this team, will miss time with an injured left oblique, which he suffered during the 10th inning in his start against the Giants on Wednesday. While the team only expects him to miss three starts, oblique injuries can be tricky -- let's hope the injury doesn't linger.
Coming into the season, everyone knew it had the potential to be rough, but no one could have expected it to be as bad as it's been. The good news is that, as bad as this weekend was, it can't get much worse. The team is 7-9, they are alone on the bottom of the division, they can't hit the ball, and on top of that, they are down one ace.
They've been here before, although not in the last few seasons, so it's crucial that they don't panic and let their struggles get the best of them. It's only April, and they have a long way to go. They can right the ship in Arizona, where they start a three-game set against the Diamondbacks on Monday.