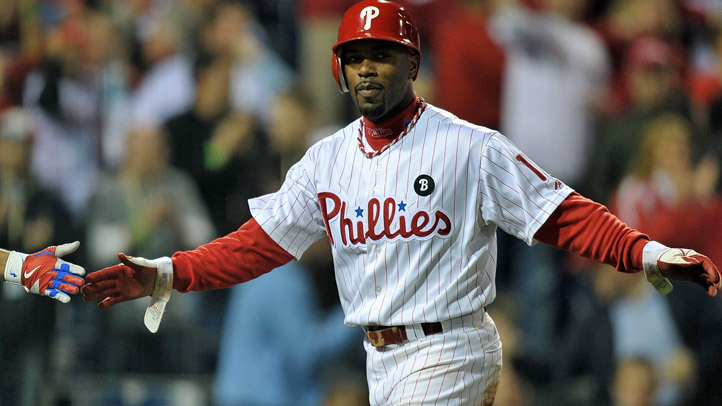 The longer we wait for the season to arrive, it seems, the worse things get. First, it was about Ryan Howard's infection, then, it was about Chase Utley's bad knee. No, not that knee, the other one. Then, we hear that Michael Martinez fractured his foot. That last one isn't so bad, but you get the picture. If this keeps up, there might not be a team come Opening Day.
While the last thing I want to do is keep a tally of all the things that have gone wrong for the Phillies so far in 2012, I have to admit that their roadblocks -- which are numerous -- should only serve to make the season more challenging, and I argue, more fun.
You see, the Phillies have sort of been on easy street over the last few seasons. Excepting 2007 and 2008 -- where it came down to the wire -- the Phillies have progressively had an easier time dealing with the rest of the league as they continued to rack up division titles.
In 2009, they seized first place in late May, and would ride out the season as the best team in the division. Things got a bit dicey in 2010, as the team had to make a late season surge to get back on top, but they cruised to another division title in the final month. 2011? Forget about it. With the exception of one day in April, they ran the table, and had themselves at least a five-game lead from July 23 through the rest of the season.
In truth, 2011 was about as exciting as sitting on your couch. It was comfortable, and we enjoyed it, but that was about it. There was no doubt, no adversity and no stress. By August, we wanted the playoffs to get here. We got bored.
See, I like some excitement. I like a good challenge. That's why I started running last year, for the first time in nearly a decade. While it would be much easier to sit on my couch and eat potato chips, there was a certain sense of satisfaction in lacing up my sneakers and completing a three mile run. Sure, I was winded, and my muscles ached the next morning, but I did something. I chose the path less traveled and came out a better, stronger person.
That's what 2012 should be be for the Phillies. They've been on the couch for far too long, and that's not going to cut it anymore. Despite their strong pitching, 2011 isn't going to be a cakewalk. They are going to have their mettle tested, and it's going to be a doozy; fraught with stress and anxiety and doubt, and we are all going to question whether or not they can pull it off -- just like we did in 2007. Remember how fun that was?
It's time for the Phillies to go for a run.