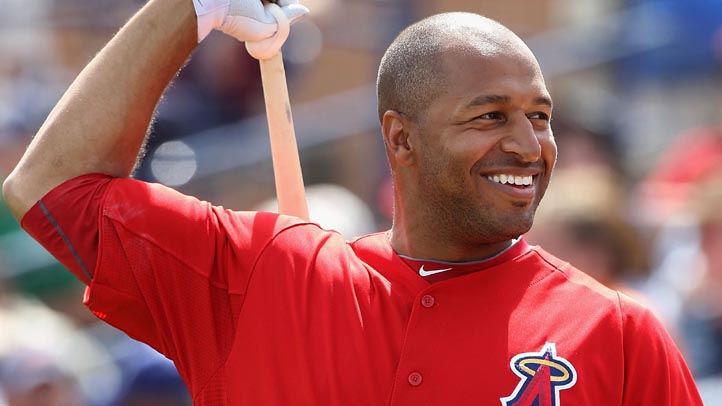 The Phillies might just have their eyes on a pair of right-handed hitters, as it was reported by CBS Sports' Jon Heyman that they are interested in outfielders Cody Ross and Vernon Wells.
Ross, who you might remember from ruining the 2010 NLCS as a member of San Francisco Giants, would make some sense for the Phillies. Wells, who you might remember from being hilariously bad at baseball, would not.
Both are right-handed hitters with some power, but both are also on the wrong side of 30, have already peaked, and don't figure to offer any significant improvement to the current roster.
Ross, who hit 22 homers in 130 games with the Boston Red Sox in 2012, will be 32 years old next season, and wouldn't be much of an upgrade over a platoon of John Mayberry Jr. and Laynce Nix. He also figures to command a multi-year deal somewhere in the range of what Shane Victorino received from the Red Sox (Three years, $39 million) earlier in the off-season. It's a steep price to pay for a hitter with a career .783 OPS who also happens to be bad at defense.
Wells, on the other hand, would be an even worse option for the Phillies.
Wells, 34, is coming off a pair of miserable seasons with the Los Angeles Angels of Anaheim, where he hit 36 homers with a line of .222/.258/.409, which was roughly equal to what Ty Wigginton did in 125 games for the Phillies last season.
The one good thing about Wells -- barely -- is that the Angels would have to pick up most of the $42 million still owed to him over the next two years, which could make him a cheaper option than Cody Ross. The downside is that this would require the Phillies to trade a warm body for him, and there is quite literally no way a team can come out on top when it trades for Vernon Wells.
Odds are, the Phillies are just kicking tires on any living baseball players who happen to hit from from the right side, but that doesn't mean they are going to be in a hurry to sign any of them. Ross has drawn interest from a lot of teams, so there is a good chance that he doesn't end up with the Phillies, and I'm fairly confident that it would take nothing short of a miracle for them to acquire Wells.
I wrote about this earlier, but there aren't many viable options for the Phillies on the market, so at this point, the best action might just be inaction.