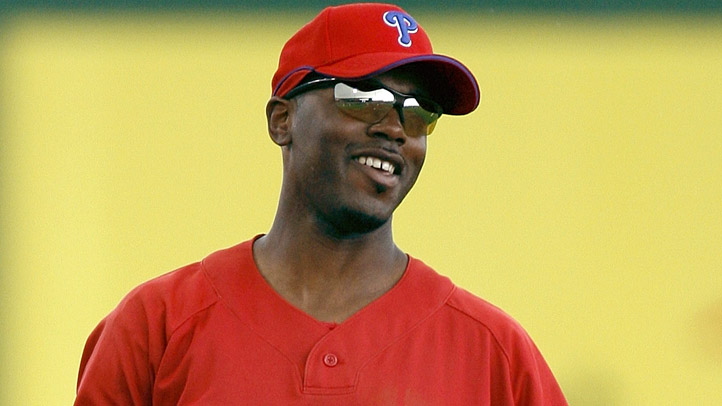 The longest-tenured professional athlete in Philadelphia is going to add to his legacy in the City of Brotherly Love.
The Phillies made it official Monday, inking shortstop Jimmy Rollins to a three-year, $33-million contract -- with an option for a fourth season -- that could keep him in red pinstripes through 2015.
"We were able to work through things and get a fair deal… years and money that makes sense for both sides and that was what we were able to do," Rollins said at a press conference inside Citizens Bank Park.
General manager Ruben Amaro, Jr. was elated to check off one of his major items on his off-season checklist.
"When we set out this off-season it was important to do a couple things, one was to sign Jimmy back and the other was to take care of the closing position," Amaro said. "I think we've done those two things -- those major things -- and we couldn't have done it with a better shortstop than Jimmy Rollins and we're pleased to have him back."
A career .272 batter, Rollins, could hit the 2,000-hit mark, 400-double and 400-steal marks this season. The three-time All-Star could also now finish up his Phillies career as the franchise's all-time leader in a slew of categories.
Rollins, 33, is in the Top 5 all-time on the Phillies franchise list in games (1,636 – 5th), hits (1,866 – 4th), runs (1,080 – 4th), stolen bases (373 – 4th), total bases (2,964 – 4th) triples (100 – 4th), at-bats (6,858 – 3rd), doubles (388 – 3rd), extra-base hits (658 – 3rd) and multi-hit games (543 – 3rd).
But all those numbers mean nothing if Rollins doesn't help the Phillies back to a bigger goal.
"Jimmy has been an integral part of this franchise's recent success and is arguably the best shortstop in club history," said Amaro. "He also stands to be one of the Phillies' all-time greatest players. This contract ensures that he will be with us at a time when we hope to continue this recent run of division titles. Jimmy clearly gives us the best chance to bring a World Series title back to Philadelphia and we are looking forward to the next several years with him at his home at the shortstop position."