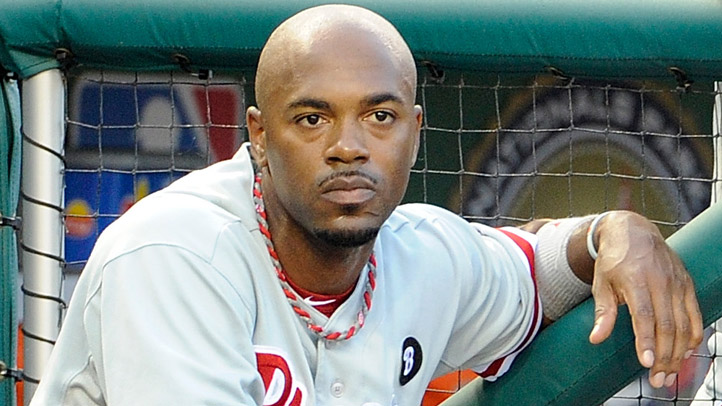 The Phillies are going to enter September without their most-tenured player at the top of the lineup.
Shortstop Jimmy Rollins is headed to the disabled list, he tweeted Monday.
"Soooooo this is what we got...mild grade 2 strain. DL"
Rollins apparently hurt his groin while making a defensive play in Sunday's 5-4 loss in Washington, according to MLB.com.
The team made Rollins' trip to the DL official later Monday. All-Star third baseman Placido Polanco was activated off the DL to take Rollins' spot on the roster. Polanco hasn't played since early August as he battled a sports hernia.
Luckily it seems that Rollins isn't concerned about this injury lingering into the postseason. Rollins says he should be back by September, according to MLB.com's Todd Zolecki.
Rollins, in his 12th season with the Phils, is batting .268 (.329 on base percentage) with 14 homers, 22 doubles, 79 runs, 58 RBIs and 28 steals this season.
With J-Roll on the mend, Shane Victorino will likely step into the leadoff spot while Wilson Valdez and Michael Martinez split time filling in at shortstop.
Rollins wasn't the only Phillie out of the lineup Monday against the Mets because of a groin injury. Left fielder Raul Ibanez also took a seat with what was being called a sore groin.