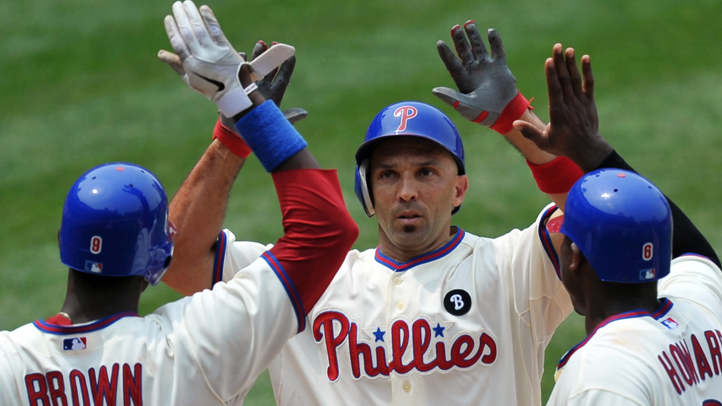 In case you haven't noticed, Raul Ibanez had himself quite a month of July.
The Phillies' 39-year-old left fielder, who in the final year of his three-year deal he signed before the 2009 season, was one of the pillars of the offense last month hitting seven home runs and 25 RBIs -- both leading the team -- while slugging to the tune of .558.
It was a quite contrary to his June performance, when he hit a miserable .211, while contributing one home run and five RBIs to the offensive effort, after which many -- including myself -- wondered if it was only a matter of time before Charlie Manuel stopped penciling him in on the lineup card.
For now, Raul is seemingly beating Father Time and avoiding the bench thanks to his scalding July.
But for how long will it last? After all, it's not the first time this year that Ibanez has gone from ice cold to red hot, as we were having similar discussions about his ability in April after he finished the month well under the Mendoza Line (.161) with only one homer to his name and more than twice as many strikeouts (26) as walks (9).
At the time, it seemed inevitable that he was going to be replaced in the lineup by someone. John Mayberry, Jr., Domonic Brown when he got healthy, or heck, even Ross Gload would have been a more suitable replacement.
But then, out of nowhere, Raul took off, and again made fools of us all, as he carried the Phillies in May, thanks to a team-best .941 OPS, seven homers and 19 RBIs. His success lasted only so long, before going back into the tank in June.
So, what does this mean? Well, probably nothing.
Baseball is a weird game, and sometimes, hitters are really streaky. It's not terribly surprising that this would happen to Ibanez, considering that he's been hot and cold since he arrived in Philly two and a half years ago, and has been similarly experiencing on and off months since the beginning of last season. His OPS vacillates between somewhere in the mid-.600s to the high-.800s, almost like clockwork.
Maybe his advanced age is more prone to hot and cold streaks, and his slowing bat takes a bit longer to get tuned in after slumping. Maybe he isn't seeing the ball that well in the odd months. Maybe he just really loves months with 31 days. More than likely, it's just baseball.
But now that August is here, all Ibanez can do is hope that his bat doesn't own a calendar, because really, that's all he can really hang his hat on. It's been a mostly miserable season for the veteran, whose. 728 OPS is his worst since he became a full time player in 2001.