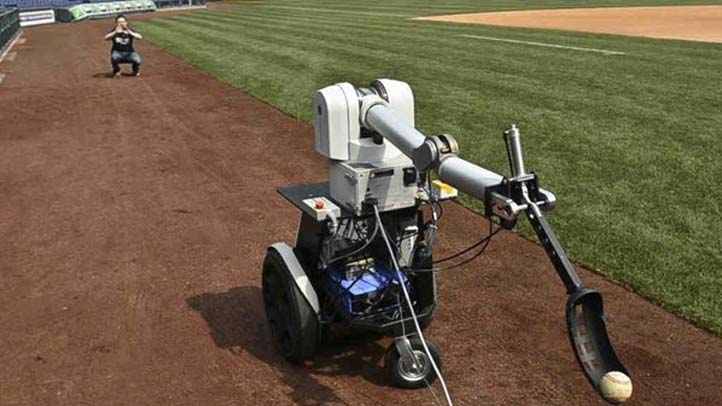 At first I was scared by a pitching robot—seemed like the first sign of a robot apocalypse to me. But now I realize that this may be the most memorable thing to hit baseball since Dark Helmet—I mean David Wright—took to the mound in 2009.

Affectionately nicknamed PhillieBot, this jai alai-on-steroids-looking contraption will toss out the first pitch at the Phillies' afternoon game versus the Brewers on Wednesday.

It was engineered and built by Penn engineers for the Philadelphia Science Festival, the city's two-week celebration of science and technology. Wednesday's first pitch is part of Science Day at the Ballpark, a collaboration between festival organizers and the Phillies meant to "showcase the physics of baseball and other interesting bits of science and technology that are part of America's favorite pastime," according to a press release.

PhillieBot, which took two months to build, weighs about 230 pounds and is—get this—mobilized by a Segway.

The build team was comprised of Jordan Brindza, Jamie Gerwitz, Christian Moore, Vijay Kumar, and Rebecca Stein. This group built PhillieBot from the ground up, handling programming, electronic interfacing, mechanical design, and general oversight.

I'll admit—a lot of what I just wrote in the preceding paragraph is well over my head. Regardless, one doesn't need to know what electronic interfacing is to know that this robot is a pneumatic ace. It can even be programmed to change pitch velocity and trajectory.

But my favorite part is the so-called arm, which has a wrist.

Yes, a wrist.

PhillieBot's first pitch will be at 12:45 pm., just prior the game's scheduled 1:05 p.m. start time.

And don't worry about the robot apocalypse; any John Connor will tell you that the Three Laws of Robotics are totally reliable.