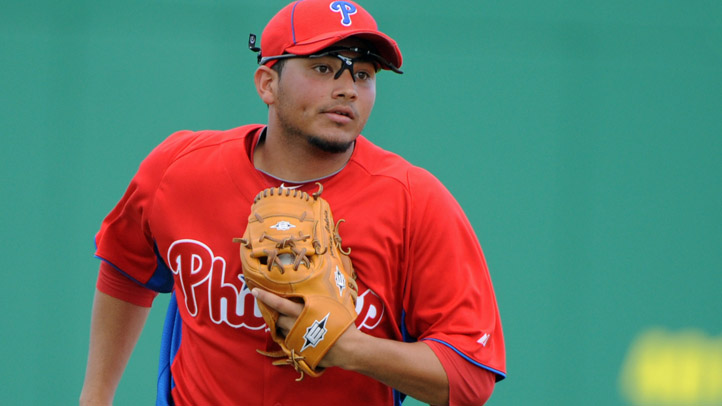 Upon hearing the news that Chase Utley's knee condition got worse, and that he wouldn't be ready for Opening Day (and probably the entire month of April), the question from "When will he be back?" to "Who takes his place in the mean time?"
That question, it seems, has been answered, as general manager Ruben Amaro Jr. named prospect Freddy Galvis the likely starting second baseman.
Galvis seems set to make his MLB debut next month, barring a trade, or some kind of miracle that rehabilitates Utley in the next two weeks.
But, who is Freddy Galvis? To most, he has only recently crept up on the radar, and even then, that was only because Jimmy Rollins' future in Philadelphia was sketchy. But now that Rollins is back in the fold, it appeared that Galvis was going to continue to bide his time in the Minor Leagues. That is, until his impressive spring coincided nicely with Utley's injury.
Originally drafted as a shortstop, the 22-year-old Galvis is an elite defender who only recently made the move to second base, as the team wanted to increase their level of depth in the middle infield. And it appears that his range and defensive acumen play as well at second as it did at short.
As far as the positives go, that's really it. Despite being a vacuum on defense, Galvis really can't hit, and it wasn't until he put up a .278/.324/.392 line between AA and AAA in 2011 that he showed any skill with the bat. Prior to that, he was the epitome of a light hitter with no on-base skills and even less power.
With any luck, Galvis -- who, again, is all of 22 -- finally figured out how to hit last season. He's not going to turn into an Utley clone anytime soon (or ever), and a .700 OPS would be the absolute best case scenario for him in 2012 (realistically, he'll probably land closer to .630).
If there is one positive that can be taken away from Utley's injury -- and this is a very liberal definition of the word "positive" -- it's that we get to see a young prospect find his way in the majors. It's not an ideal situation, and we'd all prefer to have Utley on the field come Opening Day, but the Phillies (and the fans) have to play the hand we've been dealt until they get their second baseman back.
He probably won't hit much, and any sort of offense he can provide is an absolute bonus, but with the Phillies missing some key components on offense, it's on Galvis to be a rock on defense. And that is a very valuable commodity.
And Galvis should be able to take some days off early in the season. Michael Martinez, Ty Wigginton and possibly a guy like Kevin Frandsen could see some time at second.