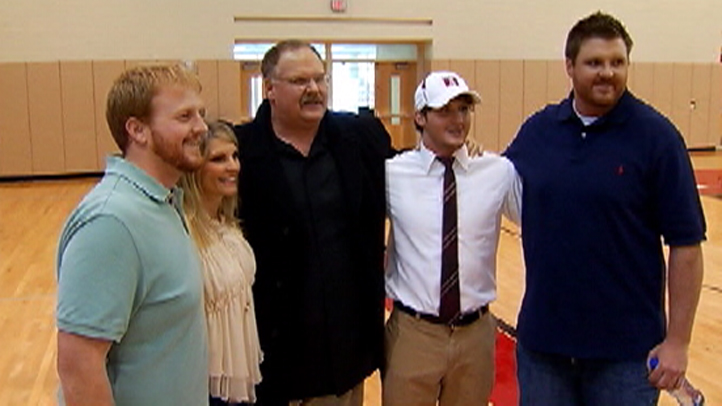 I'm heartbroken for Eagles coach Andy Reid and his wife Tammy. No parent ever plans to bury a child, yet that's what the Reids did Tuesday morning.
The oldest of their five children, Garrett, was found dead in his dorm room at Lehigh University Sunday morning, where the Eagles are in training camp.
Cause of death was not immediately determined but given Garrett's very public drug addiction; observers want to connect the dots. Twenty-nine, after all, is too early to die of natural causes.
The Reids believe cause of death to be drug-related -- hinting so in their released statement to the media: "Even though he lost the battle that has been ongoing for the last eight years, we will always remember him as a fighter who had a huge, loving heart."
We will soon know for sure when autopsy results are released.
Andy Reid is the longest-tenured coach in the NFL with 14 years of service in Philadelphia. Few in the current ranks of coaches are as well liked or admired as Andy, not only for his professionalism but for his personal conduct.
Andy is as good a man as I've ever been around. He's grounded, extremely bright and driven. What happened with his two oldest sons (including Britt) happens in the best of families in more ideal settings than the professional sports world in which the Reids' operate.
Pro sports are unforgiving. It doesn't honor birthdays, piano or dance recitals, baptisms, weddings or anniversaries. My wife and I didn't celebrate an anniversary together until our 10th, after I retired from the NFL because we married in college on July 21st, when training camps typically start. Pro sports don't celebrate Christmas, Hanukkah, New Year's or Mother's Day. It doesn't mourn the loss of loved ones or even the assassination of the president of the United States.
Former NFL Commissioner Pete Rozelle famously chose to play the games in November 1963 after President Kennedy's assassination, which he regretted all his life. Eagles' owner Jeffrey Lurie has already stated he expects Andy to coach this Thursday's opening preseason game. ESPN analyst and former NFL player Damien Woody didn't even realize the absurdity of his statement that when an assistant coach suddenly died in 2001 when he was in New England, the team used it as motivation to win their first Super Bowl.
The implication is -- if the Eagles' play this right -- they can possibly ride Garrett Reid's passing to Super Bowl glory. In pro sports, nothing is more sacrosanct than winning a championship, which conveniently ignores the fact that Garrett was a beloved son, a big brother and grandson. Indeed, he was troubled and suffered from addiction. He made bad choices that he paid for dearly with precious time at the very peak of his youth and young adult years. But by all accounts, he was making his way back. Not as quickly as his brother Britt, who had also ran afoul of the law, yet recently married and is a graduate assistant at Temple University where the Reids' youngest boy, Spencer, is playing football.
In his own way, Garrett seemed to be slowly coming back.
Garrett was helping out with his dad's team, assisting the strength and conditioning coaches at training camp. Andy was doing everything he could to help Garrett, to keep him close and away from the bad influences that led him away in the first place.
I started to see those influences emerge in Garrett and Britt's late teens. Their father and I were teammates at BYU in the early '80s and remained good friends, so they always gravitated to me whenever they saw me in the clubhouse or at camp. They were always anxious to talk BYU football, their Eagle Scout projects, summer camps, their family trips and their plans to serve a Mormon mission someday. Andy's kids, those two older boys especially, were always respectful, cheerful and just normal teenagers.
By their late teens, the light in Garrett and Britt's eyes started to slowly dim. We spoke less and less of Mormon missions, church dances and youth conferences. Then suddenly, in January 2007, came the arrests of both boys, on the same day, in separate incidences of DUI, a gun charge and drugs. The fight was on.
Garrett lost his battle. It's happened to lots of other families. Addiction doesn't seem to care about socioeconomics, political persuasion, the religious or ungodly, whether you're rich or poor, famous or unknown, educated or illiterate, prince or pauper.
Garrett seemed to be working hard to make his way back. But it ended in a dorm room in Bethlehem Sunday morning.
Andy and I exchanged very personal e-mails Monday night. I shared my condolences, support and love; he expressed his hope, faith in God and appreciation for our friendship. He's reeling, as one might expect, but he and Tammy are leaning on their faith, their Latter-day Saint congregation, family and friends.
What else can you do?
It's just so tragic.