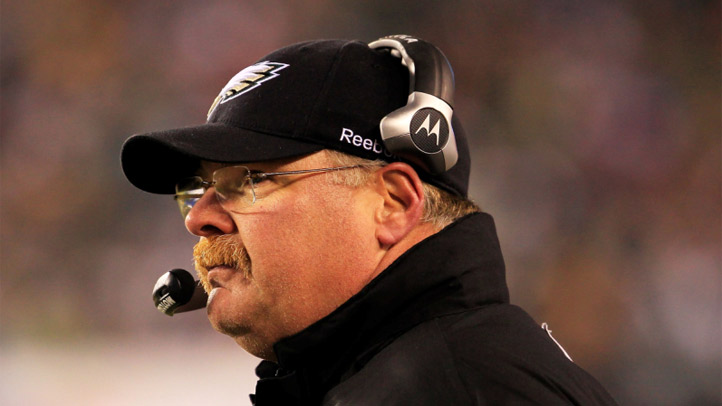 Andy Reid was especially curt with the media during his post-game press conference following Sunday's 29-16 loss to the Giants. He answered almost all of his questions with just a few words, often barely spitting out one word acknowledgements and defying further explanation.
But it isn't the press Reid should be angry with -- it's himself. After a tough loss to the division rival Giants, the Eagles coach has to sit back and re-examine both his in-game and long-term decisions.
During the game, Reid made some controversial calls that blew up his team's face. For starters, he elected to go for it on 4th and 1 on the Giants 43-yard-line, up two points with less than 12 minutes to go in the game. The Eagles defense had previously bottled up the Giants offense, and you might want to try to pin them back deep.
Instead, the Eagles tried to run for the first down and LeSean McCoy couldn't pick it up. The Giants took over with great field position and proceeded to score a touchdown and take a 22-16 lead.
However, Reid's decision way back in the offseason to let Juan Castillo take over the Eagles defense seems like a much worse move. Despite huge free-agent upgrades at defensive line and in the secondary, Castillo's unit has ceded two fourth-quarter leads in the last two weeks.
Castillo has so far been unable to scheme in a way that would keep the linebackers out of trouble and his defense clearly can't come up with a big stop when it needs one. There's still time in the season, but so far the promotion of an offensive line coach to defensive coordinator seems to be a season-crippling move.
Reid may have taken some of his anger out on the Eagles beat reporters, but he needs to focus some of that inwards. And, ultimately, he's the only one who can fix these problems.