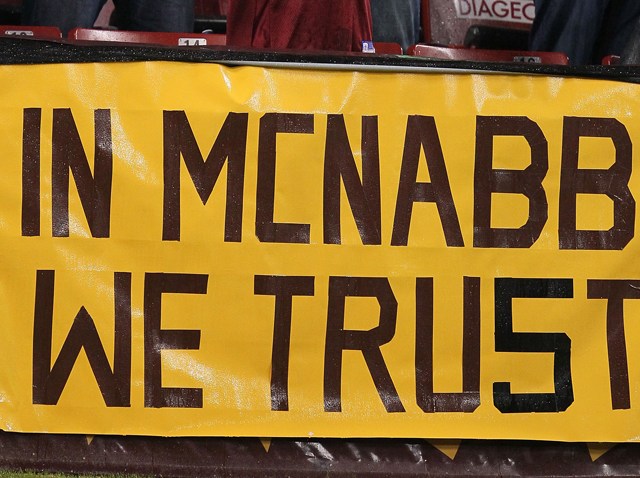 Not only has the team benched Donovan McNabb for the rest of the season and made him a third-stringer, on Sunday it looked like they also slashed prices on his replica jerseys being sold in the team's online store.
Want a burgundy jersey of Malcolm Kelly, Chris Horton or Ma'ake Kemoeatu? That will be 80 bucks, please.
But for a while Sunday, if you wanted a McNabb or Albert Haynesworth jersey you could get a home or away replica for half the price at $39.95.
The No. 5 and No. 92 jerseys were the only two current player jerseys on sale. Heck, even Joey Galloway jerseys were still going for $80, and he was cut in late November. The ladies, kids and premier jerseys of McNabb and Haynesworth also were reduced in price across the board at the Redskins' online store.
But a check again during the game showed that the price of the McNabb jersey went back up to full price. The Washington Post's Dan Steinberg tweeted during the fourth quarter that a Redskins spokesman told him "a third-party vendor mistakenly reduced the price of McNabb jerseys. Back to full price."
As for the Haynesworth jerseys? Well, they're still half off. With more discounts to come, we imagine.
Discounts like those offered on Devin Thomas jerseys. You can let one of his jerseys slip through your fingers for only $19.95.