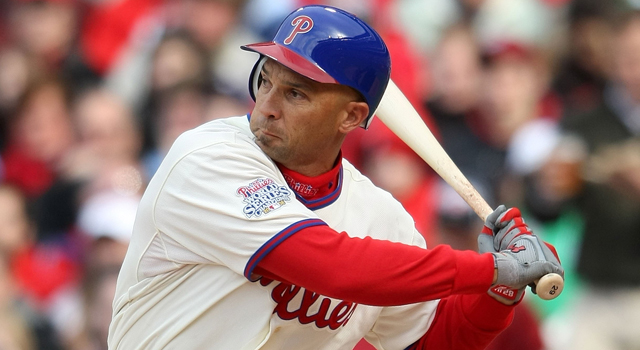 It was reported on Monday morning that Raul Ibanez, who spent the last three years as the leftielder for the Phillies, would be signing a one-year deal with the New York Yankees that was worth just over one million dollars. The 40-year-old is expected to be their designated hitter, where he should exclusively face right-handed hitters.

And just like that, the era of Raul Ibanez in Philadelphia comes to and end. No more "Rauuuuuuuuls" from the crowd, no more stretches when his bat appears to carry the team, no more talk of whether or not he can serve as the only DH on a National League team. If anything, his departure from the team should be met with the same sort of fanfare that his arrival brought: Nothing more than a shoulder shrug and "Okay, whatever."

In truth, I liked Raul, and for all intents and purposes, he was a capable hitter. Like I said, there were times when he could carry the team by himself, and others when he looked like he'd never again be able to turn on an inside fastball. Overpaid and overvalued, sure, but his line of .264/.329/.469 in three seasons with the team was good enough, considering the sort of firepower brought on by the rest of the club during that time. I think we all would have preferred if Ibanez would get on base a bit more, but that can be applied to most of the roster.

His best season with the Phils came in 2009 – specifically, the first half of 2009 – when he hit 22 homers and had a crazy-good line of .309/.367/.649, which transformed Ibanez from "just another free agent outfielder" into some kind of a folk hero, who charged into battle amid the cries of "Raaaaauuuuuuuul!"

After that, it all went downhill for the left-handed hitting outfielder. He got injured, and his second-half OPS went from 1.015 to .774. He hit 12 homers and had a woeful .232 batting average, before going on to have a nice run in the postseason, where he was one of the few Phillies to actually hit during the World Series (.942 OPS in 24 plate appearances).

He was so-so in 2010 (.275/.349/.444 with 16 homers), and his 2011 performance was unforgettable (.289 OBP). He was streaky as all get out (his bat was set to the lunar calendar, it seems), he was a so-so defender (that's being generous), and, in the end, was what you would expect from a 39-year-old outfielder (non Barry Bonds division).

I lodged a fair amount of complaints about him, although my ire was more directed at the one's filling out the lineup card and failing to properly utilize him, and not so much with the man himself, who, if what I hear is accurate, is one of the nicest guys in the game.

He had his share of big moments in red pinstripes, but, for my money, none was bigger than on Sunday, April 19th, 2009, when he hit a walk-off homer against the San Diego Padres to help the Phillies avoid the sweep. It was one of the more emotionally charged moments that you could have in a baseball game in April (it was the first home stand without Harry Kalas – he died the previous Monday), and it was his first real "Phillies moment." I had the great pleasure to be at the ballpark that day, and was sitting one section over from where the ball landed in the seats. And brother, that was a sight to behold.

All told, I'm not really going to miss Raul. I liked him and all, and I'm happy that he gets to keep playing baseball, but ultimately, I'm going to be much happier to see someone else trot out to left field. That said, I wish Raul luck with the New York Yankees. Except for when he plays the Phillies.