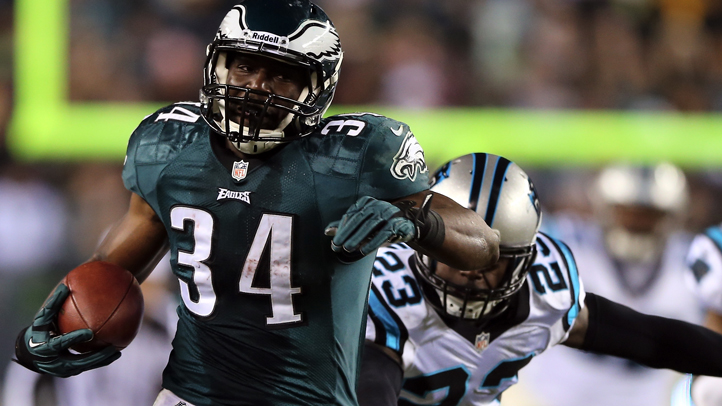 Bryce Brown is kind of a beast. 19 rushes for 178 yards and two touchdowns? That's impressive. Fumbles aside, he looks like a real keeper. At a ripped 225 pounds and having run a 4.37 40-yard dash at his pro day, Brown is an amazing athlete who looked the part of a stud NFL back when he got the chance to carry the load. This is why you draft players with upside in the later rounds, not limited effort guys like Kurt Coleman and Brian Rolle.
Speaking of Kurt Coleman, he was involved in at least one of two horrific coverage breakdowns that gifted Carolina touchdowns. Jon Gruden was in shock up in the booth as the Panthers waltzed into the end zone untouched. Here's what Dan Jeremiah, former scout with the Eagles from 2010-2012 said on Twitter:
Kurt Coleman is a good fourth safety. He should be covering kicks and playing in emergency situations. He's not starter quality.
What happened to Todd Bowles? Even with players like Coleman, this defense shouldn't have gotten worse after the firing of Juan Castillo, right?
Nick Foles is probably not the guy. Everyone hoped that the Eagles had lucked into their future starter when Foles lit up the preseason. But he's been exposed right now as a guy that doesn't look at all ready to play in the NFL. (Anyone know where Mike Kafka is?) Foles was lucky he didn't get picked off two or three times during the Carolina game. And even when he completed passes, he nearly got his receivers killed by leading them into nasty hits.
Vinny Curry: He's alive!
Alex Henery is a stud? With three more field goals on Monday night, Henery has hit 19 in a row, breaking the franchise record he previously held with the guy he replaces, David Akers. Of course, he still hasn't attempted a kick longer than 49 yards this year.
Oh, and the Eagles lost. That puts them in line for the fifth-overall pick. Somebody put on some limbo music. How low can they go?