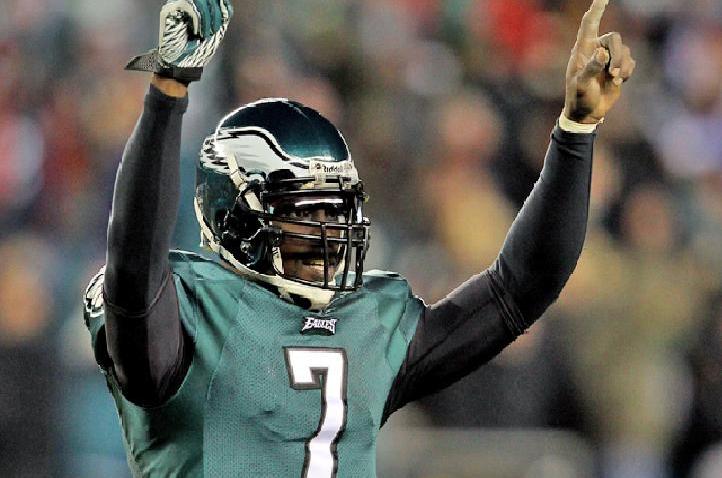 Your fantasy draft is coming soon. You're overwhelmed. Confused. You don't quite know what to do, largely because you are full of beer and churros. Fear not, we at Bird's Nest are here to help you properly gauge the fantasy value of your favorite Eagles players. Today, it's QB Michael Vick.

Chances are, no one drafted Michael Vick in your fantasy league last year. And chances are, you didn't have the waiver position needed to grab Vick after his Week 1 cleanup job for Kevin Kolb that earned him the starting job for the rest of the season. Which means that you had to sit there for the rest of the year while some other B@!#!$** picked up Vick and cruised to the playoffs.

This is annoying. I bet you don't ever want to see that happen again. I bet you plan on drafting Vick CRAZY early. And my friend, you would not be alone. Currently, Vick is being drafted at an average of 8.9th in Yahoo fantasy leagues, and at 4.4th in NFL fantasy leagues (Can you add a "th" to a decimal number? RULES ARE MADE TO BE BROKEN Y'ALL). After Aaron Rodgers, he's the first QB people go after, and it's easy to see why. During his time in Atlanta, people always drafted Vick way too high, praying that this would be the year he developed the passing stats to complement his running stats, giving you a starting RB and a starting QB all in one roster spot. THE ULTIMATE FANTASY WEAPON. But that didn't happen until last year, after Vick took over the Eagles and after the fantasy world had written him off. Kind of annoying that he took so long, but I digress.

If you had Vick in your league last year, you got the 3rd or 4th highest scoring player in all of fantasy, depending on how your league does its scoring. Rodgers was first. Tom Brady was second. And Vick and Peyton Manning vied for 3rd. But in current drafts, Vick is going well before Brady and Manning. And NFL.com is projecting (insanely, I might add), that Vick will top 4,000 yards passing and 800 yards rushing this season. If Vick does end up having those numbers, he'll probably fall into a heap of tangled ligaments by the divisional round. There are still lingering questions about this offense, and more important, questions about Vick being able to hold up all 16 games.

Despite his brilliance last season, I'd argue that you aren't better off drafting Vick high in the first round if Brady and Manning are going to be available in Round 2. Vick was unheralded going into last season, the perfect buy-low option. Now that's he once again arguably the NFL's star attraction, I'd be a whole lot more cautious. Don't let homerism get the best of you.