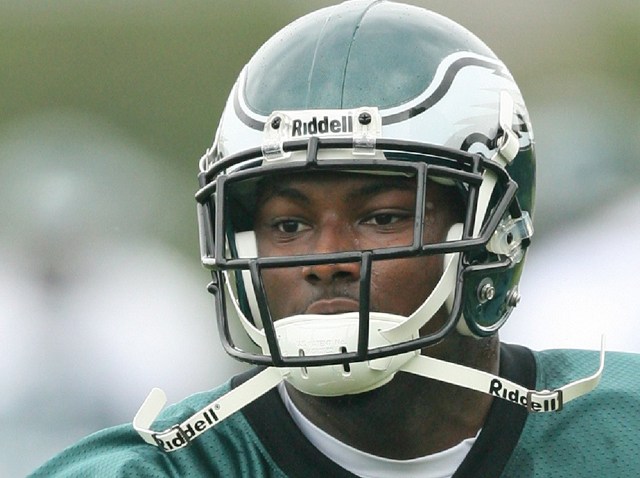 All preseason long, we'll take a closer look at the fantasy prospects for various Eagles skill-position players. Today: LeSean McCoy.

It's gonna be weird to hold a fantasy draft this year and NOT see Brian Westbrook drafted somewhere in the second half of the first round. Westbrook was a fantasy mainstay for so long, it's hard to believe the man is now jobless. You always drafted Westbrook praying he wouldn't get injured, then he'd put up insane rushing and receiving totals early in the year to get you jazzed, then he'd sprain an ankle and be Questionable for the next 11 weeks. Then you'd sit him the exact same week he decided to make a surprise start and tally 250 yards from scrimmage. Brian was annoying like that.

LeSean McCoy takes his place full-time this year, and the question is: Will McCoy put up comparable numbers to the old Westbrook when Westbrook was healthy? Let's see what we can divine.

Last year, McCoy averaged 4.1 yards on the ground and amassed 40 catches despite sometimes splitting carries with Westbrook (pre-concussions) and Leonard Weaver after Westbrook got hurt. It's not clear that McCoy will get the bulk of the carries this season with Weaver still around, particularly in possible goal line situations. That's why, as of right now, Yahoo has McCoy going, on average, in the 7th round of all their fantasy drafts (64th pick overall). It appears the fantasy community has already decided McCoy won't be able to match the numbers of vintage Westbrook, who bested McCoy's YPC average in six of his eight years in an Eagles uniform. McCoy also had just one run go for over 20 yards last season.

Westbrook thrived despite Andy Reid's notorious (and endlessly annoying) reluctance to run the ball. Whatever carries Westbrook lost to Reid's scheme, he usually made up for by catching tons of balls out of the backfield. Westbrook had over 60 catches for four straight seasons, and had a knack for scoring on plenty of them. Running backs with that kind of ability are rare, and McCoy didn't score on any of his receptions last year. He'll have to do better than that to match Westbrook's production.

We haven't even gotten to the issue of Kevin Kolb yet. It's unclear if Kolb will develop a fondness for using his running back as an outlet, as Donovan McNabb did. Hell, it's unclear if Kolb will even be able to handle being the full time starter. All of that uncertainty is what's leading a lot of fantasy sites that I checked to project McCoy for less than 1,000 yards rushing and middling production. If you're an Eagles fan looking to draft McCoy high because you think he'll become a Westbrook clone, you may be in for a rude surprise.