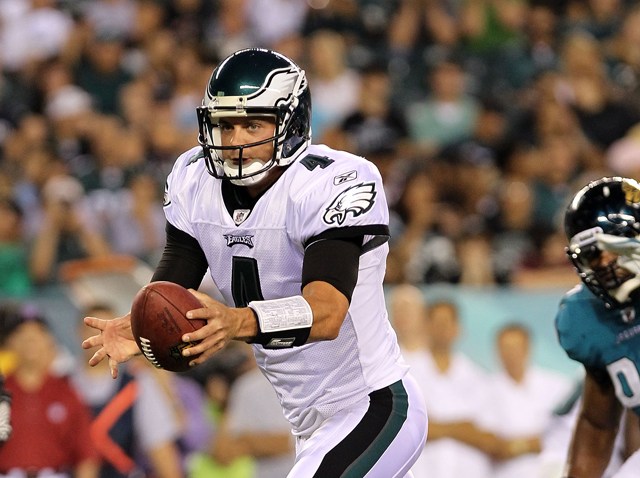 All preseason long, we'll take a closer look at the fantasy prospects for various Eagles skill position players. Today: Kevin Kolb.

You never want to be a fantasy sleeper. It's always a sure sign of impending doom. Why, just ask Anthony Gonzalez. Last year, Gonzalez was one of those players you grabbed in the late rounds to a hearty round of "nick pick"s from your fellow fantasy owners. My friend Andy Behrens at Yahoo will always tell you that those "nick pick" players are always the ones that end up ruining you in the end. After all, if EVERYONE thinks a player is a sleeper, is he really a sleeper anymore? Isn't he more of a waker?

That brings us to Kevin Kolb. You will find no bigger consensus sleeper pick at the QB spot this year than the Eagles fourth-year triggerman. And why wouldn't he be adored by the fantasy community? Kolb played two full games last year and threw for over 300 yards and 2 TD's in each (with a rushing TD thrown in for good measure). Take his numbers from his three games last year, extrapolate them out into a full season, and you have Kolb throwing for nearly 4,000 yards and over 20 TD's, good enough to make him a solid if not above average fantasy starter, and one you can draft much later than proven passers like Philip Rivers and Tony Romo.

Furthermore, Kolb will be playing for a coach who LOATHES running the ball. His first full game last year resulted in over 50 pass attempts (though that was in a blowout loss against the Saints), and this year he'll have a wealth of young skill position talent to get the ball to. Celek. Maclin. DeSean. McCoy in the flat. It's a pass happy offense with lots of weapons. Not a bad position for a young guy like Kolb to be in.

However, you and I both know that projecting numbers from such a tiny sample size is bound to lead you to ruin. Kolb's best game as a pro came against a Kansas City team that was putrid at the beginning of last year. He tossed three picks in his other start against New Orleans. He fumbled twice (and lost one) in relief duty against Carolina. It's hard to know anything definitive about a player whose has a resume as short as Kolb's. That's why Yahoo users are drafting him, on average, in the middle of the 8th round, about 75th overall.

That sounds about right to me. Draft him in the fourth round, and you've taken him too high. Get him towards the end of the draft, and you have a steal and perhaps a backup you can use as trade bait later in the season. I don't expect Kolb to be a bust. I expect him to rack up plenty of yards and TD's, but with the danger of turning the ball over. A lot. Not Jay Cutler a lot, but plenty enough to worry and anger you. New guys have a penchant for that sort of thing. If he doesn't turn the ball over, well then you're suddenly looking at a Top 5 QB and a dude who could lead his team to the playoffs. But that's the problem with fantasy sleepers. They always make you see things that aren't there yet.