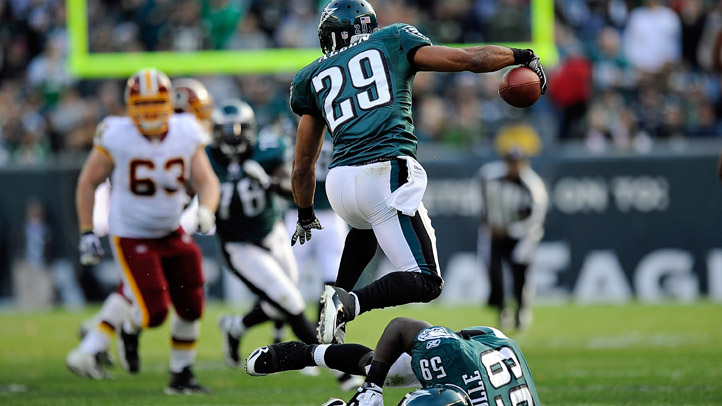 What the Eagles did: Did you notice that safety was the only defensive position the Eagles left alone this offseason? They didn't sign any free agents. They drafted no one to compete, not even a late-round pick. The front office clearly trusts the young players already there. Whether that trust is warranted is a whole different matter.
At linebacker, which was probably the bigger disaster last year, the Eagles elected to try to replace two-thirds of its starters. That plan may or may not work, but the team certainly wasn't content to wait and see if Jamar Chaney, Brian Rolle, Casey Matthews, and others could improve. The team took the opposite approach at safety though. The plan appears to be giving third-year players Nate Allen and Kurt Coleman every chance to improve from last season.
This decision seems at least partially justified. Unlike the linebackers, both Allen and Coleman have had multi-game stretches of solid play. After falling out of the starting lineup completely in training camp while suffering lingering effects of his 2010 torn patellar tendon injury, Allen bounced back at the end of the year. While not a dominant athlete, Allen has all of the physical and mental tools necessary to be an above-average safety. Hopefully a healthy offseason will finally be the springboard to be that consistent in 2012.
Coleman has much more meager physical skills. He's smaller and slower than Allen, which is why he was only a seventh-round pick in the same year. Overall, Coleman's ceiling just isn't very high. That said, he can be an average, or even good safety at times. He had eight or more tackles in four games last year (although that may speak more to LB quality) and, of course, his three-interception game against the Redskins. Unfortunately, Coleman frequently screws up in the mental part of the game.
Jaiquawn Jarrett's name should probably come up here. The former Temple product has his backers, although there's little evidence the coaches are enamored with him at all. Despite being a second-round pick in 2011, Jarrett hasn't even been in the conversation to start in 2012.
After that it's unclear who will make the Eagles roster. Colt Anderson was a Pro Bowl-caliber special teams player last year but tore his ACL in December. Tom Nelson took his place and didn't show much in the last few games. Philip Thomas, two-year starter at Syracuse, is an undrafted free agent the Eagles took a flier on. Nothing to count on.
What I would have done: Was there no veteran capable of competing with these players? Yeremiah Bell? Anyone?
Right now the Eagles have two players who have never demonstrated they can consistently start and three more who haven't proven they even belong in the NFL (plus one injured special teams maven). That doesn't inspire confidence.
Way-too-early prediction: Despite the fact that the Eagles have completely ignored the position, I still feel relatively optimistic. The assembled group is probably the weakest unit on the team (not counting fullback?), and I'm not expecting either Allen or Coleman to be world-beaters. In fact, I'm resigned to them both being below average. So how is that optimistic? Only because I think improved units in front of them and (hopefully) less convoluted coverage schemes will make their coverage screw-ups and poor tackling less noticeable.
As to Jarrett, I'm starting to wonder if he might not be around in a year's time. The coaches have demonstrated absolutely zero faith in his abilities, and reports are that he has failed to bulk up like the team wished. Even more disturbing is that Jarrett couldn't play special teams last year. He has time to turn things around and there's quite a low bar of competition in training camp, but the signs thus far have been disconcerting.