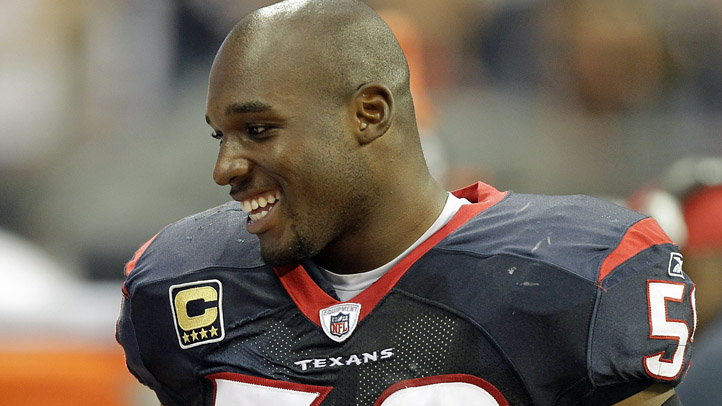 What the Eagles did: I'm not sure I've seen a worse group of NFL linebackers than the ones the Eagles employed last year. The position was an incompetent game of musical chairs. If the defense has any hope of rebounding from that, they'll have to get a major upgrade from their two newcomers.
DeMeco Ryans comes to the middle of the defense with lots of hype. He was a two-time Pro Bowler in a 4-3 defense in Houston, and will certainly be a huge upgrade. Simply having an experienced veteran leader and sure tackler in the middle will boost the Eagles defense significantly. The question of whether he can return to his elite pre-Achilles injury self does remain, though.
The second newcomer upon whom much relies is second-round pick Mychal Kendricks. The former Cal star has already been slotted in at the strongside linebacker spot, and so far in minicamps the reports have been nothing but positive. There's a definite danger in projecting Kendricks to start as a rookie, as Eagles fans know all too well. Still, his pedigree is significantly higher than Casey Matthews -- and any other current linebacker on the squad not named Ryans.
After that, all we have is a host of unreliable youngsters -- the same players who played so poorly last season. As long as the two newcomers work out, this won't be too much of a problem. Surely one of the bunch can be adequate enough in the weakside job.
The frontrunner for that spot seems to be Jamar Chaney, a player the Eagles coaches must love, because he's shown next to nothing on the field. Chaney has the athleticism to be a great linebacker, but he's a poor tackler and worse at finding the ball-carrier in the first place. A strong coach might be able to get something out of him, but Mike Caldwell and Juan Castillo probably aren't the men for that job.
Brian Rolle is the opposite of Chaney, smaller but smarter and a better tackler to boot. He held the weakside job last year and was the most consistent of any of the young players. Still, I don't know that many people would hold Rolle's overall performance in particularly high esteem. He didn't embarrass himself, as some of the others did, but judging from his frame and rookie play, Rolle's ceiling is not particularly high. In the long run, he would be best suited for a backup and special teams role.
Next comes Casey Matthews, who was unfairly thrown into the fire at middle linebacker last year. To my eyes, though, his play improved when he returned later in the season, and reports this year say he put on significant weight, from 230 pounds up to the 250-pound range. That raises questions about whether he has become too big to compete on the weakside, although getting the best three linebackers on the field should always be the priority. Matthews, despite his disastrous rookie season, seems to have the most upside between him, Rolle and Chaney.
Finally, there's Keenan Clayton, Moise Fokou and Akeem Jordan. Clayton, the LB-safety tweener, has shown nothing in two years that justifies keeping him around (plus he just had sports hernia surgery). Fokou played so poorly last year that he took only seven defensive snaps after Week 9 and none after Week 12. Jordan filled in at strongside linebacker in his place, proving that he could at least be an adequate stopgap. His best play comes out on special teams, though, as the latest Football Outsiders report details.
What I would have done: On paper, if everything goes right, this linebacker corps can be solid. The problem is, everything doesn't always go as planned. With some luck, Kendricks will grab hold of the strongside job and prove his worth. But it's just as likely the rookie will need time to adjust to the faster professional game. And while Ryans has all the talent, he'll need to prove he can rebound from last season's down year with the Texans. If anything goes wrong with either or both of the Eagles newcomers, you're immediately back to where you were in 2011.
With that in mind, I would have been more aggressive in trying to add one or two more potential veterans and backups. Someone like Dan Connor would have made a nice Plan B, or even a lesser free agent. Chaney, Matthews and Rolle should have to fight to make the roster, let alone the starting 11.
Way-too-early prediction: I think Clayton gets cut, barring some miraculous display of talent we have so far missed. The fact that he barely found the field last year was not a good sign. Fokou's fall from grace doesn't bode well for him either. Greg Lloyd, the middle linebacker prospect drafted in the seventh-round last year, and the other camp bodies are, at best, practice squad fodder. Unless one of the other guys can show their worth there, Jordan could retain his roster spot based solely on his special teams play.
As to the rest, I'm optimistic but realistic about both newcomers. I don't expect either to set the world on fire, just hopefully be above average. The trio of Rolle, Chaney and Matthews will be where the competition lies during training camp. I'm anxious to see which, if any, can prove their worth.