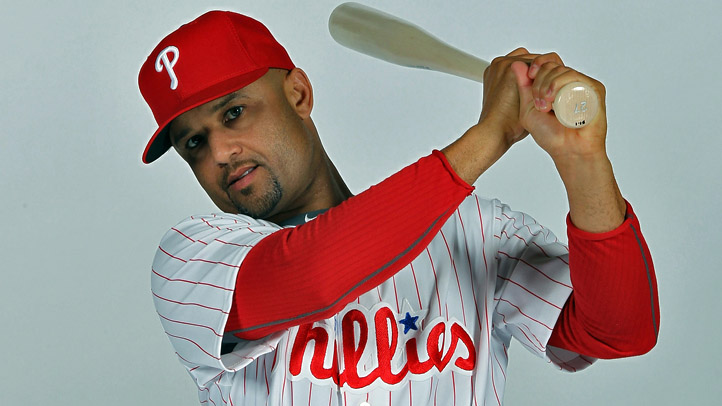 The Phightins won't lose three in a row.
The Phillies offense take most of the day Wednesday to come out of the slump that had plagued them since Monday night but in the end they had enough oomph in the top of their line up to finally overcome the Brewers.
"That was huge," Phillies manager Charlie Manuel said. "Games like this keep you from going in a tailspin."
Well put skipper!
Less than 24 hours after being shutout 9-0 the Phillies extended their scoreless innings streak to 17 innings before finally breaking through.
Placido Polanco hit a game-tying three-run homer to put the Phils on the board in the sixth and Shane Victorino hit a game-winning solo shot in the eighth to give the Phils a 4-3 win in their first Business Person's Special of the season.
Milwaukee starter Chris Narveson picked right up where fellow lefty Randy Wolf left the Phils hitters Tuesday night. Narveson carried a no-hitter into the fifth and held the Phillies off the board until Polanco's blast.
Brandon Kintzler (1-1) relieved Narveson. The righty would give up Suga Shane's leadoff game-wining blast in the bottom of the eighth.
Ryan Madson (2-0) pitched a scoreless eighth to earn the win. And Jose Contreras shut the door for his fourth save of the season.
Cliff Lee started for the Phightins going six innings. He gave up eight hits, one walk and two earned runs while striking out just one over 93 pitches.
"I didn't have my best stuff," Lee told the AP. "I had to battle. They have a very good offense. I would've liked to have been more efficient and done a better job. I felt fine, but I wasn't as sharp as I'd liked to be. A day you feel you don't have your best stuff, to be able to take the team to the sixth, seventh and have a chance to win, that's all you can ask for."
The Phillies now head out west for a four-game series in San Diego against the Padres. Roy Oswalt (2-0) faces Mat Latos (0-2) in the opener Thursday night at 10:05 EST.