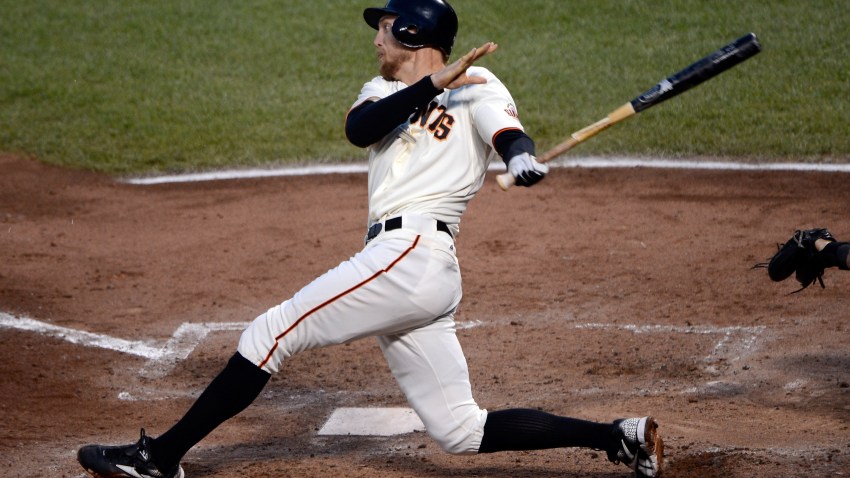 Had I told you, back in March, that Hunter Pence would be spending his October playing on a team that is World Series bound, you'd have been pretty excited, right? And in no way could you have predicted that he would be doing so as a member of the San Francisco Giants.

But, thanks to a mid-season trade after the Phillies were more or less dead and buried, the right-handed outfielder finds himself smack dab in the middle of a team that stormed it's way back in two straight series en route to its second Fall Classic in three seasons.

Pence, who struggled mightily in the second half of the season with the N.L. West champs – he hit only .219 with a .671 OPS in 59 games – didn't fare much better in the playoffs. He was barely present during the NLDS against the Cincinnati Reds (four hits, no RBIs, no runs, .400 OPS), and it took until the fourth game of the NLCS to knock in a run against the St. Louis Cardinals.

And although his presence has not been felt throughout the playoffs, Pence did have one of the biggest hits of Game 7 of the NLCS. With a 2-0 lead in the bottom of the third, Pence – who was 4-for-26 in the series at that point – had a broken-bat single that would go on to clear the bases.
But what was so unusual about that hit was that – as you can see by our post on it last night – the ball hit Pence's bat three times. After nearly breaking his bat in half upon making contact, Pence's follow through caused the barrel of the bat to connect with the ball two more times, which gave it some crazy spin that was enough to fool shortstop Pete Kozma into breaking the wrong direction and allowing ball to head into the outfield.

But that's about what you'd expect from Hunter Pence, who doesn't exactly have a normal style of play. He's gangly, he wears one batting glove, and he runs like the protagonist in one of those old-timey movies.

Truthfully, I'm happy for Hunter. I hated the trade that brought him to Philly, and there's not a day that goes by that I don't think about how much Ruben Amaro is going to regret sending Jarrod Cosart, Jon Singleton and Domingo Santana to Houston in the summer of 2011. But I can't hate Hunter for that. I mean, I guess I can, a little, but that wouldn't be fair. Just like it wasn't fair to the Phillies that they couldn't stay healthy this year.

At any rate, good for Hunter. I'd wish him all the best in the World Series, but I'm rooting for the Detroit Tigers to sweep.