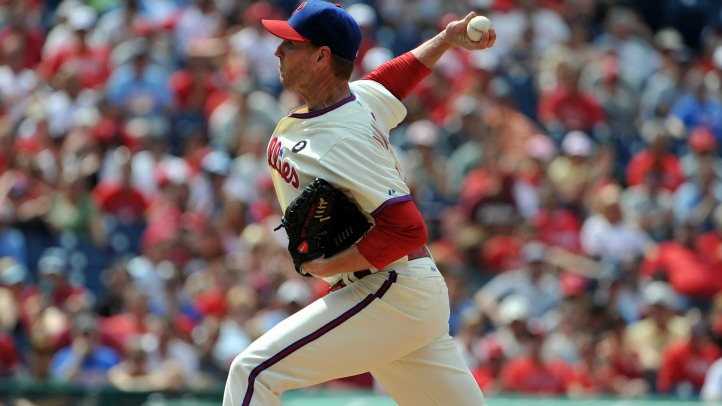 You know that a pitcher is operating at a high level when he does something impressive and rare for our times while eliciting little more than a yawn from those who watch him do it.
So it goes for Roy Halladay halfway through his second year as a member of the Phillies. A perfect game, a playoff no-hitter and a penchant for completing games that's straight out of the 1960's has made for a very high bar that Halladay simply can't clear with your garden variety 113-pitch evisceration of the Oakland A's.
He's not getting any help from his friends either. Perhaps we would still find our hearts racing after a Halladay start if he were the lone accurate gun in a gang that didn't shoot straight, but the fact that he's surrounded by a team of snipers only makes it harder to turn a cartwheel every time he pitches well.
We're just about halfway through the 2011 regular season and the Phillies pitching staff has lived up to every pie in the sky prediction people made when Cliff Lee signed this winter. Bill Baer of Crashburn Alley points out that the staff is on pace to allow 500 earned runs this season, a total that would tie for the 15th-lowest total allowed by any pitching staff in the 162-game era.
Making that fact all the more impressive is that none of the teams that allowed fewer runs played after 1968. That was "The Year of the Pitcher" and baseball lowered the mound after that season to spur offenses that looked a lot like the 2011 Phillies into a more productive atmosphere. When you weight that for the era, it results in a 126 ERA+ for the Phillies staff and that's better than any of the other stingy staffs on the list.
It's not as good as some of those Braves staffs of the Glavine/Maddux/Smoltz era and there have been other staffs with less impressive raw numbers that look better once put into the context of their times. It's that last bit -- context -- that might explain why the Phillies staff seems to be getting less hype now that they've earned it than they did before throwing a pitch.
Offense in baseball has taken a page from the economy and that's left several pitching staffs with great numbers over the first half. Atlanta and the A's are almost even with the Phillies, the Giants aren't far behind and teams like the Rockies and Mariners are still alive because they have prevented runs at a healthy clip.
That doesn't do much to help the case for a historically special pitching staff although you can't punish them much for being a big part of the reason why offenses have cratered this year. The Phillies have done something very difficult by rising above lavish amounts of advance billing even if it feels like something less than a big deal.
Copyright FREEL - NBC Local Media