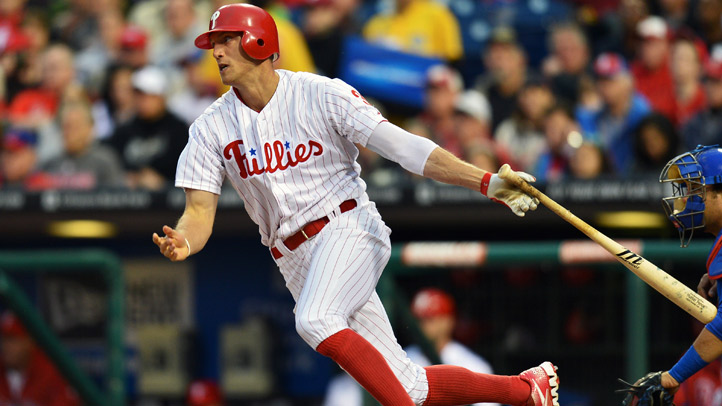 Placido Polanco hit a tiebreaking, two-run double in the eighth inning to lift the Philadelphia Phillies to a 6-4 victory over the Chicago Cubs on Monday night.

Bryan LaHair hit a tying, two-run homer off Chad Qualls (1-0) in the eighth after Vance Worley threw seven impressive innings for Philadelphia.

But the Phillies answered in the bottom half. Scott Maine (0-1) hit pinch-hitter Juan Pierre with a one-out pitch and Jimmy Rollins singled off Rafael Dolis with two outs.

Polanco, who had just two RBIs in his first 71 at-bats, drove in two with a hard liner to the wall in left.

Jonathan Papelbon pitched the ninth for his eighth save in as many tries, giving Philadelphia a split of the four-game series.

The five-time defending NL East champion Phillies finished April at 11-12, their first losing record in a full month since going 11-15 in June 2009.

The bright side for the Phillies: They were only 12-10 in April 2010 and went on to win a major league-best 97 games.

Worley allowed one run and five hits, striking out five. He left with a 4-1 lead, but the bullpen blew it.

Antonio Bastardo started the eighth and got one out before walking Tony Campana. Qualls came in and allowed an RBI single to Starlin Castro after Campana stole second. LaHair then ripped a two-run shot to right-center for his fifth homer.

Worley lowered his ERA to 1.97, third-best among Philadelphia's starters. Roy Halladay's is 1.95 and Cliff Lee's is 1.96.

Often overlooked on a staff filled with aces, Worley was 11-3 as a rookie last season and has been even better this year. He's allowed two runs in 20 innings in his last three starts.

Cubs starter Chris Volstad gave up four runs _ all in the first _ and eight hits in six innings to remain winless since July 10, 2011. He is 0-8 in 16 starts since his last win when he was with the Marlins.

Rollins got the Phillies started with a drag bunt single leading off the first. After Shane Victorino reached on a one-out infield single, Hunter Pence hit an RBI single up the middle for a 1-0 lead. A two-out walk to Laynce Nix loaded the bases and Carlos Ruiz followed with a two-run single to right. Pete Orr's RBI single made it 4-0.

The Phillies helped Worley with nifty defense by shortstop Rollins and third baseman Polanco on consecutive plays in the third.

Worley pitched out of trouble in the fourth and fifth, leaving runners at second and third in both innings.

Another defensive gem by Polanco helped prevent a big inning in the seventh. The Cubs loaded the bases with no outs. Geovany Soto then hit a hard grounder down the line, but Polanco made a backhanded grab on an in-between hop, stepped on third and threw to first to complete the double play. A run scored to cut the deficit to 4-1.
---
Fan, follow and download: Get the latest from NBCPhiladelphia.com anytime, anywhere. Follow us on Twitter, Facebook and NBC Philadelphia. Sign up for our sports newsletter. And, get breaking news delivered right to your mobile phone -- just text PHIBREAKING to 639710 to sign up. (Message and data rates may apply.)
Copyright AP - Associated Press