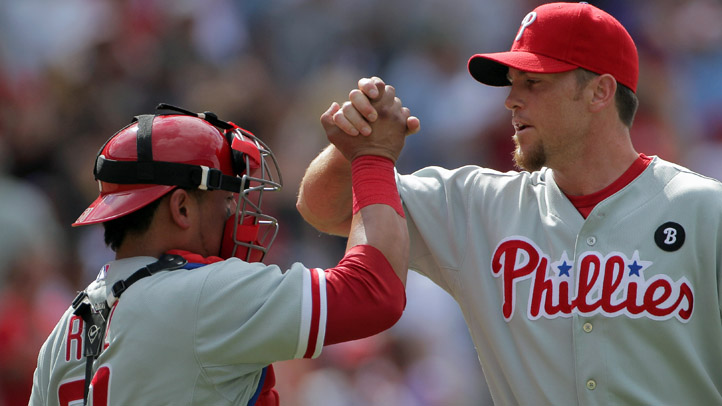 The Phillies (71-39) beat the Rockies (51-60) for their sixth straight win as they completed a sweep in the Mile High City.
Roy Halladay (14-4) picked up his NL-best 14th win of the season despite allowing four earned runs over seven innings. Antonio Bastardo allowed one run in relief -- a home run off the bat of Todd Helton, his seventeenth career long ball against the Phils.
Then surprisingly Brad Lidge pitched the only 1-2-3 inning of the day for the Phightins as he secured his one 100th save as a Phillie in his home town of Denver. It was his first save of the 2011 season. Normal closer Ryan Madson was reportedly unavailable to pitch because his wife is having a baby.
As Halladay struggled, the Phightins bats once again came alive. Every Phillies starter -- including Doc -- had a hit. Ryan Howard had another big offensive day going 2-for-4 with a walk and four RBIs -- two of which came on his first home run off a left-handed pitcher this season when he tagged Rex Brothers in the sixth inning.
Howard was also responsible for the two Phillies errors in the game. In the bottom of the first, Dexter Fowler reached on a fielding error by the Big Piece. In the same play, Ryan tried again to get Fowler out at first but committed a throwing error by lobbing the ball over the 6-foot-6 Halladay, allowing a run to score.
Jimmy Rollins, Shane Victorino and Hunter Pence picked up an RBI each. Pence has a hit in each of his five games as a Phillie.
The Phillies head to San Francisco for a four-game series beginning Thursday. According to Scott Mathieson's Facebook page, he is on his way to San Francisco as well. The rotation is expected to be Cliff Lee, Vance Worley (now on Twitter!), Cole Hamels and Roy Oswalt. The righty has been on the disabled list since June 24 with back problems.