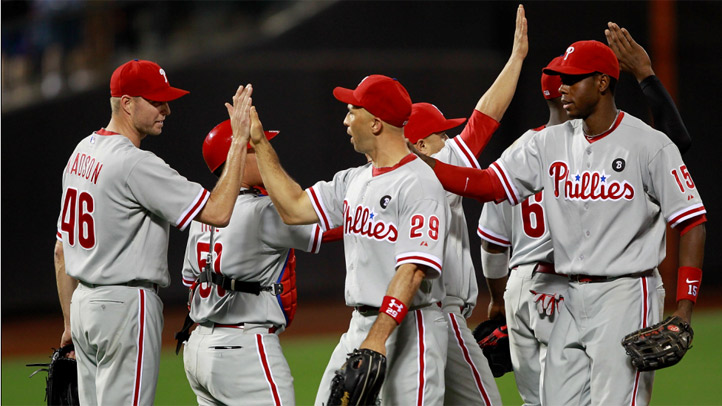 Ryan Howard hit a tiebreaking double in the eighth inning and Cole Hamels finally beat a familiar nemesis, pitching the Philadelphia Phillies past the slumping New York Mets 5-2 on Saturday night.
Hamels (7-2) struck out a season-high 10 and walked none over seven innings to win his third straight outing and improve to 3-9 in 15 career games against the Mets. The left-hander had lost five consecutive starts against them.
This time, he recovered from a shaky start to retire his final 11 batters _ five by strikeout _ without allowing a ball out of the infield.
Jose Contreras worked a perfect eighth and Ryan Madson got three quick outs for his 11th save in as many tries. Philadelphia pitchers set down the last 17 Mets after Ronny Paulino's fourth-inning single.
Jimmy Rollins and Chase Utley sparked another late rally for the Phillies, who scored three times with two outs in the eighth after Mets starter Mike Pelfrey was lifted. The NL East leaders have won four straight and eight of 11.
Jose Reyes stole two bases and scored twice for the Mets, who have dropped six of seven after coughing up an eighth-inning lead for the second consecutive night. New York has lost all three series against the Phillies this year, falling to 2-11-1 in series with them since 2009.
Pelfrey took a three-hitter into the eighth inning and received some defensive help when Angel Pagan, activated from the disabled list Friday, dashed into right-center and went to his knees for a tumbling catch to rob John Mayberry Jr. of a leadoff hit.
Pelfrey had retired 12 straight when Rollins chased him with a two-out single on his 116th pitch. The crowd of 29,337 gave Pelfrey a rousing ovation as he walked off the mound, but those cheers soon turned to boos.
New York let Rollins steal second easily and Mike O'Connor (0-1) gave up a two-strike single to Utley, tying the score at 2.
Placido Polanco drew a walk from Jason Isringhausen, and Mets manager Terry Collins tried his third reliever of the inning when he brought in left-hander Tim Byrdak to face Howard, who was batting .186 with 25 strikeouts in 70 at-bats against lefties this year.
The slugger lined a 2-0 pitch into the right-field corner to put Philadelphia up 4-2.
For the second consecutive night, the Phillies overcame an eighth-inning deficit against New York's suddenly struggling bullpen. Mets relievers have a 12.63 ERA in the last six games.
Pinch-hitter Ben Francisco added an RBI double off rookie Dale Thayer with two outs in the ninth.
Reyes got the Mets off and running with a leadoff double in the first inning. He stole third and scored on Justin Turner's single up the middle.
That gave Turner 19 RBIs in 80 big league at-bats this season _one more RBI than Mets star David Wright has in 146 at-bats. Wright is on the disabled list with a back injury.
Reyes also singled and stole second in the third before scoring on a two-out single by cleanup batter Jason Bay, who improved to 4 for 29 (.138) with runners in scoring position.
New York stole a season-high five bases, all in the first three innings _ including one by Pagan. He tried to swipe third as well, but Hamels wised up and spun around in time for an easy pickoff.

---
Fan, follow and download: Get the latest from NBCPhiladelphia.com anytime, anywhere. Follow us on Twitter, Facebook and NBC Philadelphia. Sign up for our sports newsletter. And, get breaking news delivered right to your mobile phone -- just text PHIBREAKING to 639710 to sign up. (Message and data rates may apply.)
Copyright AP - Associated Press