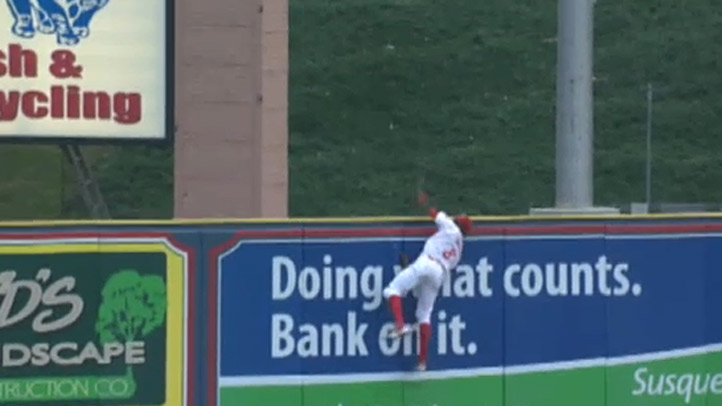 One of the top prospects for the Phillies took the social media world by storm Saturday after making a spectacular catch that may go down as the baseball play of the year.
It happened during a game between the Double-A affiliate Reading Phillies and the Bowie Baysox at FirstEnergy Stadium in Reading.
During the third inning, Jonathan Schoop of the Baysox hit a deep ball to center field that appeared to be a home run. That was until Phillies centerfielder Jiwan James literally sprang into action. The crowd looked on in amazement as James scaled the wall, stuck his hand over it and somehow managed to catch the ball even after losing his glove.
The incredible grab was all the rage on Twitter, especially after it took the No. 1 spot on SportsCenter's Top 10 plays.
Some fans argued though that it appeared James may have trapped the ball with his body against the wall. It was called an out in any case.
James, a 23-year-old Florida native, was already considered one of the most promising players in the Phillies farm system. After the catch he certainly won't be falling off the team's radar anytime soon.
---
Fan, follow and download: Get the latest from NBCPhiladelphia.com anytime, anywhere. Follow us on Twitter, Facebook and NBC Philadelphia. Sign up for our sports newsletter. And, get breaking news delivered right to your mobile phone -- just text PHIBREAKING to 639710 to sign up. (Message and data rates may apply.)