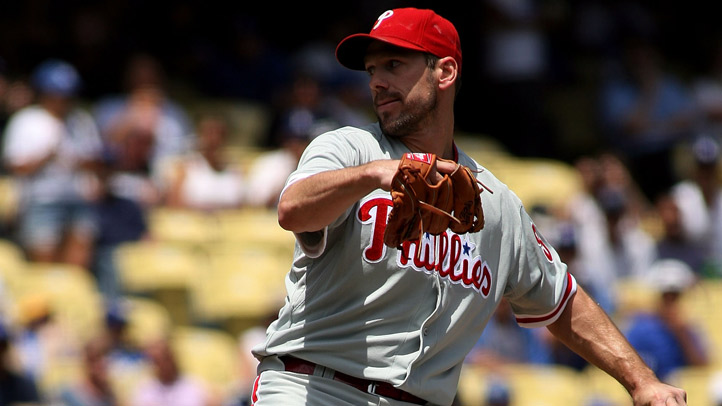 Matt Kemp hit a two-run homer in the 12th inning, giving the Los Angeles Dodgers a 5-3 victory over the Philadelphia Phillies on Wednesday.
Rookie left-hander Jake Diekman (2-0) walked Mark Ellis with one out and Kemp drove a 1-0 pitch the other way into the pavilion seats in right-center for his 13th home run and sixth career walkoff homer, capping the 4-hour, 25-minute marathon.
Jamey Wright (4-2), the sixth Dodgers pitcher, worked one inning for the victory as the Dodgers ended a four-game losing streak.
Hunter Pence hit a two-run single in the 10th inning with the bases loaded to give Philadelphia a 3-1 lead after Cliff Lee and Clayton Kershaw battled to a 1-all tie through eight in a matchup of Cy Young Award-winning left-handers. But the Dodgers responded with two runs in the bottom half against closer Jonathan Papelbon, whose blown save was his third in 24 opportunities.
Pinch-hitter and former Phillie Bobby Abreu had an RBI single and scored the tying run when Kemp beat out an infield single to deep shortstop with two outs and runners at the corners.
Dodgers reliever Javy Guerra walked three in the 10th, including an intentional pass to Chase Utley. Pence hit the right-hander's 1-0 pitch to left field to drive in two.
Phillies manager Charlie Manuel used four relievers in the ninth, including Michael Schwimer, who escaped a bases-loaded jam by striking out pinch-hitter James Loney on a pitch in the dirt.
Less than 24 hours after the Phillies won 3-2 on a bases-loaded two-run single by Pence in the eighth inning against Kenley Jansen, they loaded the bases again against the Dodgers' closer in the ninth. But he escaped this time when Jason Pridie flied out as a pinch-hitter for Lee.
It was the ninth no-decision for Lee, and the seventh to go extra innings. The three-time All-Star allowed a run and two hits _ the eighth time in 16 starts that he yielded fewer than three earned runs.
Lee's only victory was on July 4, when he beat the Mets 9-2 at New York. In his other start this season against the Dodgers, he retired 21 of his first 24 batters and took a shutout into the eighth before giving up a two-run double to Elian Herrera in a 2-1 loss at Philadelphia.
The 2008 AL Cy Young winner retired 15 of his first 16 batters in the rematch and threw 56 of his 89 pitches over the first five innings. His biggest out came in the sixth, when he struck out Kemp with two men on base after a leadoff single to A.J. Ellis and a two-out walk to Mark Ellis.
Kershaw allowed a run and five hits, struck out seven and walked none. It was the 13th time in 20 starts this season that he allowed fewer than three earned runs, and he is 6-3 in those games.
Juan Rivera, starting at first base for the Dodgers instead of Loney with a lefty starting, opened the scoring in the second inning with his fourth homer.
Shane Victorino, who still gets booed every time he bats at Chavez Ravine because of the damage he did against the Dodgers in the 2008 and 2009 NLCS, scored the tying run in the fourth on a single to center by first-time All-Star Carlos Ruiz after leading off with a single and stealing second.
The Phillies got a runner in scoring position three other times. But Kershaw struck out Rollins to end the third, then retired Pence on a fielder's choice grounder to escape the sixth, and got Utley to ground out to second in the eighth after a two-out double by Victorino.
Kershaw remained 0-4 in eight career starts against Philadelphia with a 2.88 ERA. He faced them on June 4 at Philadelphia, giving up three runs over seven innings during the Dodgers' four-game sweep.
---
Fan, follow and download: Get the latest from NBCPhiladelphia.com anytime, anywhere. Follow us on Twitter, Facebook and NBC Philadelphia. Sign up for our sports newsletter. And, get breaking news delivered right to your mobile phone -- just text PHIBREAKING to 639710 to sign up. (Message and data rates may apply.)