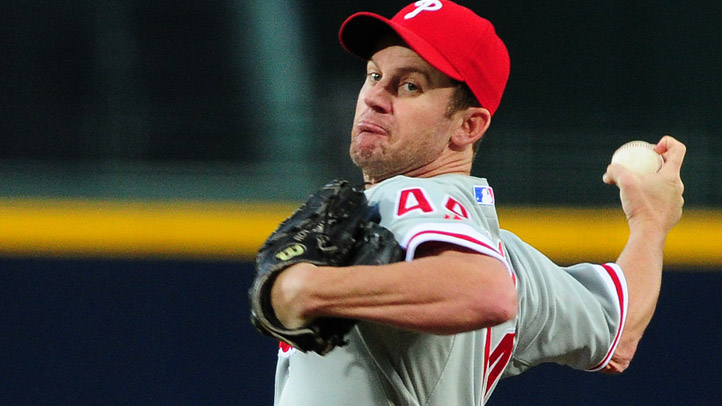 The Phillies made their first moves of the 2011 off-season on Monday afternoon by choosing not to move on two of their veteran pitchers.
The Phillies won't be picking up the options of pitchers Roy Oswalt and Brad Lidge.
These moves should come as no surprise to anyone, given the pair was due to earn a combined $28.5 million in 2012 salary (Oswalt's $16M, Lidge's $12.5M), and that the team is looking for ways to shed payroll in order to remain financially flexible.
That decision doesn't mean that either one of these pitchers won't be back next season, however.
"While we will not pick up either of their options, we will remain in contact with representatives for both players about the possibility of bringing them back for the 2012 season," said General Manager Ruben Amaro Jr. "Brad and Roy both made significant contributions to the Phillies over the past several seasons."
Both veterans have suffered injuries over the past few seasons that have significantly affected their durability and effectiveness on the mound.
Since coming over from the Houston Astros prior to the 2008 season, Lidge has vacillated between being one of the game's premiere closers in 2008 to being a wildly ineffective money pit in a historically bad 2009, which was the first season of a three-year, $36 million contract.
He shuffled back and forth from the disabled list over the past two seasons, the one-time-fireballer was nonetheless effective in limited duty, as he posted a 2.49 ERA in 65 innings over 2010 and 2011, where he struck out 10.4 per nine.
Despite his success as a middle-relief arm and the fact that too much bullpen depth never hurt anyone, it's unlikely that the soon-to-be-35-years-old Lidge is going to return to the Phillies in 2012. With young arms like Justin DeFratus, Michael Stutes, Phillipe Aumont and Michael Schwimmer waiting in the wings to get a shot at a bullpen job next season, the Phillies aren't likely to offer the more expensive and more injury prone Lidge a contract.
His former Houston teammate, Oswalt, is an entirely different story altogether. The right-handed starting pitcher, who tossed all of 139 innings thanks to a pair of DL stints stemming from a balky back, has been far more consistent and effective on the hill in his one plus season with the Phillies.
While a back injury is nothing to sneeze at, it appeared as if the 34-year-old was completely healthy down the stretch, when he finished off the season with a 3.59 ERA in his final 11 games of the season, where he struck out 51 hitters in 67.2 innings of work.
He isn't the Oswalt of 2006, but he proved to be a more than effective starter when he was healthy. And given that the Phillies are already pretty set in the first three rotation spots, they don't need Oswalt to be the hard-throwing, strikeout artist that he was in his prime. Assuming that he can avoid injury, he's absolutely going to provide a great deal of value at the back end of the rotation.
That said, it's not like the Phillies would even need Oswalt on the hill in 2012. If push came to shove, they have enough arms between Vance Worley, Joe Blanton and Kyle Kendrick to fill in the final two rotation spots after the triumvirate of Roy Halladay, Cliff Lee and Cole Hamels.
There is no doubt that the front office would prefer the veteran as their fourth starter over anyone else, but it will ultimately come down to his price tag. Oswalt figures to get interest from several clubs this winter, but it's not like anyone is going to offer him a world-beating contract. His age, combined with his injury history, are going to scare a lot of teams off, and considering that Oswalt is in that stage of his career where he is almost assuredly going to want to play for a contender, it certainly puts the Phillies in a good position to retain his services.
Of course, there is always the chance that Oswalt could retire, something that has been alluded to in the past, or that he could play for a team that puts him closer to his family. You never know what's going to happen in this crazy game, but if I was a betting man, I'd count on Oswalt being back in the red pinstripes in 2012 while Lidge plies his trade elsewhere.