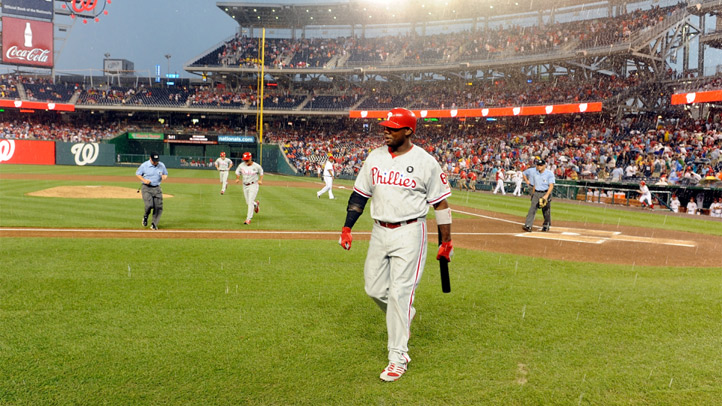 Ryan Zimmerman hit a grand slam on a full count with two outs in the bottom of the ninth Friday night, capping a six-run inning and lifting the Washington Nationals to an improbable 8-4 victory over the Philadelphia Phillies.

The Nationals were trailing 4-2 and were facing Ryan Madson (3-2), but they sent eight men to the plate against the formidable closer. It was only fitting that Zimmerman had the last word, hitting the eighth game-ending home run of his career, as well as his third grand slam.

Jayson Werth opened the inning by hanging on with foul ball after foul ball until he singled to left on the 11th pitch from Madson. Danny Espinosa hit a flare to center for a single, and Jonny Gomes singled to left to drive home Werth. Wilson Ramos bunted to put runners on second and third, and pinch-hitter Jesus Flores was walked to load the bases.

That brought up Ian Desmond, who singled to right to score Espinosa. With the bases still loaded, Rick Ankiel struck out swinging, leaving Zimmerman to finish things off.

Todd Coffey (4-1) pitched the top of the ninth to get the win for the Nationals, who handed the Phillies only their second loss in the last 13 road games.

Until the last few minutes, the Phillies were in firm control. Kyle Kendrick, getting an unexpected start after a long rain delay, pitched six strong innings and appeared set to get the win.

The teams started by playing all of 5 minutes of baseball with a background of thunder and lightning before a massive storm hit _ it had been a surprise that officials tried to start the game when they did.

After a delay of 2 hours, 22 minutes, scheduled starter Roy Oswalt was scratched in favor of Kendrick, who had been slated to pitch Saturday. In the fluky world of baseball, Kendrick was credited with a game starting as a pitcher but not as a batter, while Oswalt started as a batter but not as a pitcher _ even though he didn't perform either task.

It was Kendrick's first start since Aug. 2, and he allowed two runs and five hits with four strikeouts and one walk, much to the appreciation of the always-strong visiting Phillies contingent that waited out the delay.

Brad Lidge and Antonio Bastardo each pitched a scoreless inning in relief, but Madson blew the save for only the second time this season.

Washington starter Livan Hernandez was pitching to his fourth batter when everyone but the grounds crew headed for cover, and he stayed in the game when play resumed. The Phillies hit him hard in a four-run third, sending nine men to the plate and getting a season-high seven hits in an inning.

Jimmy Rollins doubled down the right field line off the glove of diving first baseman Laynce Nix. John Mayberry followed with his first career triple, which got past diving left fielder Jonny Gomes. Chase Utley doubled off the right field wall, and Ryan
Howard, Hunter Pence, Carlos Ruiz and Wilson Valdez all singled in the inning _ although Valdez's hit brought things to a close when Werth threw out Raul Ibanez trying to score from second.

Hernandez lasted four innings, allowing four runs and seven hits.

Ramos scored the two early Nationals runs. He singled ahead of Desmond's double in the third and hit his 10th home run of the season in the fifth.