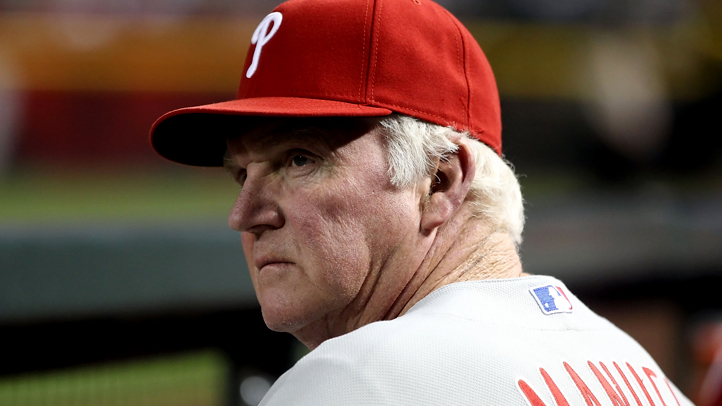 The Phillies bat remained mostly silent again Tuesday night as the National League East champs failed to score more than three runs for the 12th time in the last 13 games as they were shut out by the Nationals 3-0.
Washington starter Ross Detwiler went 7 1/3 innings to improve to 3-5 on the season. The lefty allowed just three hits and walked one while striking out three.
With Hunter Pence and Ryan Howard taking the night off, the Phillies only real offense came from fill-in right fielder Ben Francisco who went 2 for 3.
Pence, who tweeked his knee in the first game, is set to get an MRI Wednesday, the Phillies said.
"I'm not worried, but I'd like to see us play better," manager Charlie Manuel said. "We're not going through the motions, but I feel we're not focused. It's normal in some respect, but you never want to see us play in a manner where we have bad at-bats and not play well."
Cliff Lee (16-8) took the loss to likely end any chance of him being considered for the NL Cy Young Award. The lefty allowed 11 hits and three runs (two earned) while walking none and striking out nine in seven innings. He was hurt by some shoddy defense by Chase Utley, Jimmy Rollins and Carlos Ruiz.
Lee lost for the first time since July 25.
Nationals second baseman Danny Espinosa continued his domination of Lee by collecting three hits including a homer and scoring two runs.
Nats rookie closer Drew Storen collected his 40th save with a 1-2-3 ninth inning.
The loss dropped the Phils to 98-56. The Phightins haven't won since they clinched the NL East on Saturday night and they have now lost five of six. The Phillies lost 4-3 in 10 innings earlier Tuesday.
The Phillies send rookie righty Vance Worley (11-2, 2.85 EAR) to the hill to try and right the ship against Nats lefty John Lannan (9-13, 3.68) Wednesday night.