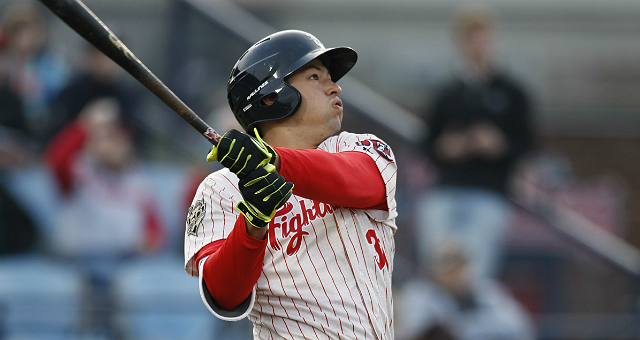 Being a highly-touted MLB prospect isn't always a lucrative existence.
Take the young slugger Dylan Cozens who bashed 40 home runs in the Phillies farm system for double-A Reading last season.
According to Philly.com's Matt Breen, Cozens earned roughly $8,500 for the 5 month long season. That's not exactly rolling in it.
Philadelphia Phillies
Complete coverage of the Fightin' Phils and their MLB rivals from NBC Sports Philadelphia.
Good news for Cozens today, however, because he almost doubled that total by havin the most home runs of any minor leaguer. That earned him a check for $8,000.
Cozens joked during the luncheon that he made more Monday than he did all of last season. The rightfielder earned roughly $1,700 per month last season. Minor league players are only paid during their five-month season, which means Cozens made roughly $8,500 last season.

"I don't know if it's true, it's a joke. Not to be taken too seriously," Cozens said. "But yeah, $8000 will make shopping this holiday season a lot easier.
Cozens also spoke about the report that he punched a teammate during winter league, noting it was just boys being boys and telling reporters they've moved past it.
Congrats @Phillies prospect @dylancozens on winning the Joe Bauman Award presented by @MuscoLighting. #WinterMeetings pic.twitter.com/NPruftUOU4— Winter Meetings (@WinterMeetings) December 5, 2016
Phillies' Dylan Cozens notes $8,000 award for most HR in MiLB is more than his salary last season at Winter Meetings awards luncheon.— Brandon Liebhaber (@B_Liebhaber) December 5, 2016
Copyright CSNPhily