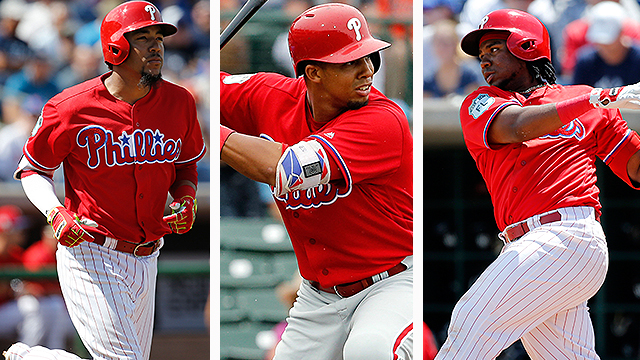 Ahh, the final weekend before opening day.
Time to open up the ol' bag of mail for your pressing Phillies questions:
Philadelphia Phillies
Complete coverage of the Fightin' Phils and their MLB rivals from NBC Sports Philadelphia.
@CoreySeidmanCSN Is there a chance Altherr and Stassi play their way into more of a platoon role with Kendrick and Saunders? Or stuck as bench options?— Tom (@TMarsh88) March 31, 2017
An interesting question. There were pretty high expectations last season for Aaron Altherr before he suffered the wrist injury early in spring training. Because wrist injuries tend to affect a hitter's swing, we can just act like 2016 never happened -- Altherr came back late in the season and played every day, but hit just .197 in 227 plate appearances.
But this is the same big, fast, athletic, powerful outfielder who slugged .489 in 2015 with 20 extra-base hits in just 161 PAs. He had a strong spring, hitting .297 with four home runs.
Marshall Harris and I asked Pete Mackanin about Altherr on the Measured Takes podcast Thursday and Mackanin's answer was simply, if he hits, he'll play.
I think there will be ample opportunity for Altherr even though he enters the season as the Phillies' fourth outfielder. He could face a tough lefty instead of Michael Saunders. He could play left field with Howie Kendrick moving to second base when Cesar Hernandez needs a day off.
As for Stassi, I think his best chance at playing time will come at first base because he's a plus defender and bats from the opposite side of Tommy Joseph. It would be a good idea for the Phillies to get Stassi some starts against hard-throwing righties.
@CoreySeidmanCSN will Crawford be up this year? If so do they move Galvis to 2nd despite the fact he could've/should've won the Gold Glove?— Matt Illari (@MattyEwwwllari) March 31, 2017
I think J.P. Crawford will be up this season, yes. The Phillies have to protect him on the 40-man roster after the season anyway, so he's likely to debut in September, if not before.
If Freddy Galvis goes down with an injury at any point, you'll probably see Crawford unless he's just in a bad funk at Triple A.
But if/when Crawford comes up for good, I don't expect the Phillies to move him away from shortstop. He's a perennial top prospect and a lot of that value is tied to his premium defensive position. It's where the Phillies want him long-term, so why mess around and move him somewhere else and potentially affect his growth?
Galvis is an elite defensive shortstop who deserves to play shortstop. Cesar Hernandez is a better hitter at second base. So if everything pans out -- Crawford makes it up, Hernandez doesn't take steps back -- either Hernandez or Galvis would probably have to be traded. Hernandez would have more value because his skills are more evident, but there are a lot of teams that could use Galvis. Shortstop is a thin position league-wide, and this guy hit 20 homers with Gold Glove defense last season. Yes, his .274 on-base percentage was as bad as it gets, but the defense and power are still more than most shortstops offer.
@CoreySeidmanCSN How much do you think Herrera and Franco will benefit with some more help in the lineup?— Trevor Allander (@Number2Allander) March 31, 2017
I don't see how they couldn't. Remember that at this time last year, Cameron Rupp and Tommy Joseph were unproven and Ryan Howard was clearly near the end, so Franco was the Phillies' only real power threat.
Franco started out hot, but by May 1 his batting average was around .250 and his on-base percentage around .300, and he barely inched up from that point forward. He swung out of his shoes a lot, gave away at-bats and, at times, didn't seem to be concentrating.
Good.
Last season showed Franco he has a lot of work to do. At an offensive position, it's not enough to have a .310 on-base percentage even if you're hitting 25 homers.
Mackanin likes the way Franco used the middle of the field this spring, and said that if he had that approach more last season, he could have turned more hanging sliders into extra-base hits.
With a well-respected veteran like Kendrick batting before him, Franco just seems less likely to give away at-bats. He'll have someone to answer to. With Saunders batting fourth or fifth, pitchers won't be able to shy away from Franco with runners in scoring position because there's just as much a chance for a homer from the two guys batting after him.
I'm not saying that the presence of Kendrick and Saunders alone will push Franco to reach his potential, but it will help.
As far as Herrera ... I think he's pretty much immune to his surroundings, in a good way. He's such an energetic player and can do so much with the bat that he seems like he'd hit .290 whether he was leading off for a bad team or batting second or sixth for a good team.
Copyright CSNPhily