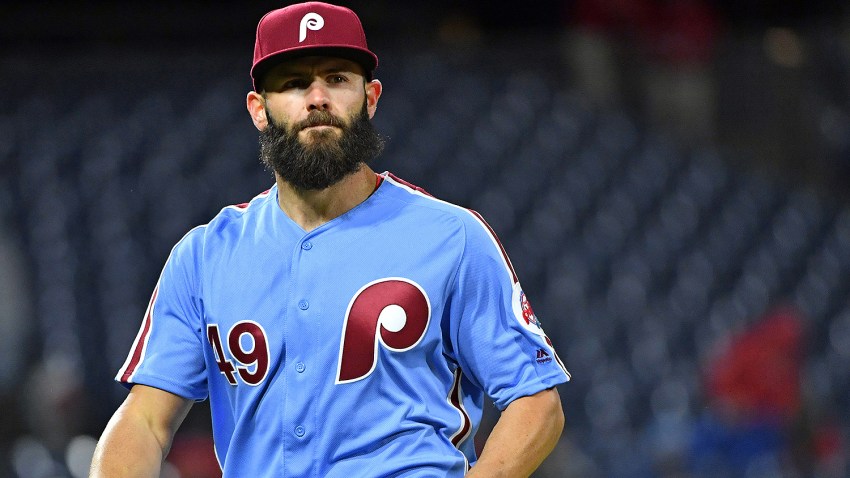 Jorge Alfaro looked and sounded like a kid who had just visited an amusement park for the first time. Wide eyes. Big smile. Let's-do-it-again amazement in his voice.
Philadelphia Phillies
Complete coverage of the Fightin' Phils and their MLB rivals from NBC Sports Philadelphia.
"That was fun," he said. "Just put a finger down and he hit the glove."
Alfaro, the Phillies' 24-year-old rookie catcher, was on the receiving end of a vintage Jake Arrieta performance Thursday night. In his third start with the Phillies, Arrieta, the 2015 National League Cy Young Award winner, dominated the Pittsburgh Pirates, the NL's highest-scoring team coming in, with seven innings of one-hit, 10-strikeout ball to lead the Phillies to a 7-0 win at wintery Citizens Bank Park (see first take).
Arrieta's fastball had sink, tail, run, whatever you want to call that Greg Madduxian downward, left-to-right darting action that makes it so tough to hit when it moves like that. He got 11 swing and misses on the pitch, 14 in all. In his previous outing Saturday at Tampa Bay, he struck out just one in 6 2/3 innings and got only four swing and misses.
Arrieta's improvement might be as simple as this: He signed with the Phillies (for three years and $75 million) just five weeks ago. Though he's made three starts with the Phillies, he's really just finishing his spring training.
"I'm caught up now," he said. "Other than being able to locate the changeup a little better, this was about as good as I've been.
"I knew I was going to be pretty crisp today in the bullpen when I had my sinker, glove side, going early. My timing was pretty much right where it needs to be. When I'm on time, when I get my foot down and I'm able to drive the ball downhill to my glove side, I know it's going to be a pretty good day. Three starts in, to be able to do that as well as I did tonight is a good sign."
Manager Gabe Kapler loved Arrieta's sinker.
"It was moving all over the place," he said. "Very impressive outing for him and a big emotional lift for our team."
Arrieta came out in attack mode, striking out the first two batters of the game on fastballs that registered 94 and 93 mph, respectively. He kept on attacking after the Phils lit up Jameson Taillon for five runs in the second inning. Rhys Hoskins homered and Cesar Hernandez cleared the bases with a three-run single. Trailing runner J.P. Crawford got a great jump from first on a 3-2 pitch and followed third base coach Dusty Wathan's wave home.
Kapler said it took "big stones," on Wathan's part to send Crawford and that the dugout was "fired up" after Hernandez cleared the bases.
With the way Arrieta was dealing, it was game over after that.
"Any time I get a multiple-run lead, I'm going to be aggressive," he said.
The Phillies are 11-7 thanks largely to their starting pitchers. They've recorded a 2.40 ERA in their last nine starts. At home, the Phils are 6-1 and have outscored opposing clubs by 35 runs. There are nine more games to play on this homestand. It's off to a good start.
Copyright CSNPhily