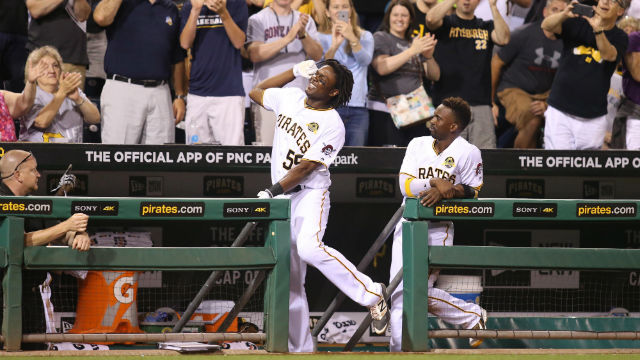 PITTSBURGH -- Josh Bell gave his veteran manager goose bumps. He fired up a sellout crowd at PNC Park, too.
Bell's grand slam in his second major-league at bat was one of four homers by the Pittsburgh Pirates in a 12-6 win over the Chicago Cubs on Saturday night.
Bell slugged a 1-1 pitch from Adam Warren (3-2) over the seats perched above the 21-foot wall in right for his second pinch-hit in two games since being recalled from Triple-A on Friday.
Philadelphia Phillies
Complete coverage of the Fightin' Phils and their MLB rivals from NBC Sports Philadelphia.
"What a fantastic sequence," said the Pirates' Clint Hurdle, who has more than 1,000 managerial wins. "I got goose bumps. I've got them probably a dozen times since I've been a coach or a manager.
"Chills went down my spine. ... Seemed like the stadium was pretty excited, too.
Jordy Mercer followed Bell's slam with a home run to make it a five-run fifth for the Pirates, who have won nine of 10 and 12 of their last 15 to move within 6 1/2 games of Chicago in the National League Central (see full recap).
Murphy wrecks Mets again, leads Scherzer, Nats to win
NEW YORK -- Daniel Murphy is torching major league pitching and no one is burned more than his former New York Mets teammates.
Murphy, who is leading the majors in hitting, homered for the sixth time this year against the Mets, drove in four runs, leading Max Scherzer and the Washington Nationals over New York 6-1 Saturday night.
"Oh my gosh, how many superlatives can you say?" Scherzer said when asked about Murphy. "This guy is just absolutely hitting the cover off the ball. He just understands what he is doing at the plate. He has such a great feel for the strike zone and when he gets his pitch, he hits it, and he is hitting these guys pretty good."
Murphy had a run-scoring single in the third inning, an RBI double in the fifth and launched his 16th home run in the seventh. He is hitting .349 overall - he's batting .438 (21 of 48) with 19 RBIs against the Mets after becoming a free agent in the offseason and signing with Washington.
Murphy refused to discuss his accomplishments against the team that he led to the NL pennant (see full recap).
McCann's RBI double in 11th helps Yankees beat Indians
CLEVELAND -- Aroldis Chapman admitted he was a little tired following Saturday's 7-6 win over the Cleveland Indians.
Chapman (3-0) struck out four in the final 2 1/3 innings and Brian McCann's RBI double with two outs in the 11th gave New York its second win in three days over the AL Central-leading Indians.
Chapman, after recording four outs in the ninth and 10th, came out for one more inning after McCann's clutch hit.
"I was trying to save energy because the game was tied in case I was going to have to go out again," Chapman said through a translator. "This is a huge win for us."
Yankees manager Joe Girardi said Chapman wouldn't have pitched the 11th had the game remained tied.
"We had to use the `pen hard," Girardi said. "We've got time off coming so I was willing to do it."
All-Star Carlos Beltran, who was 3 for 6, started the winning rally off Tommy Hunter (2-2) with a two-out single. McCann's line drive hit on the track in right field and bounced over the head of Abraham Almonte, scoring pinch-runner Ronald Torreyes (see full recap).
Perez homers, makes key pickoff to lead Royals over Mariners
KANSAS CITY, Mo. -- Salvador Perez picked a perfect time for his first pickoff of the season.
The star catcher homered, then helped protect the lead by trapping Kyle Seager off first base in the eighth inning to lead the Kansas City Royals over the Seattle Mariners 5-3 Saturday.
Perez hit a solo home run off the foul pole in the seventh that gave the Royals a two-run lead. Moments later, the World Series MVP made the defensive play of the game.
With runners at the corners and one out, Perez threw down to first baseman Eric Hosmer for his 18th career pickoff.
"That was Hosmer," Perez said "He gives me a sign and I throw the ball right to him. I think he knows more than me."
In turn, Hosmer credited the catcher.
"That's all him," Hosmer said. "Just knowing he's behind the plate you've got to stay close to the bag at all times because he's so quick back there."
"The pitch takes him that way and he just throws it right back over there, just an unbelievable play and that's why Salvy's the best. He changes the game, just completely took all the momentum away from them right there. First and third with one of their big hitters up, it was a huge play (see full recap)."
Copyright CSNPhily