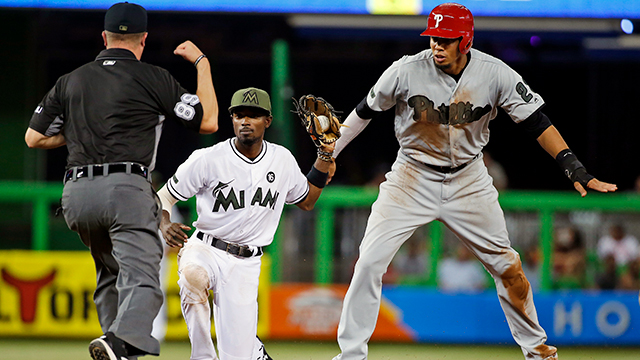 Philadelphia Phillies
Complete coverage of the Fightin' Phils and their MLB rivals from NBC Sports Philadelphia.
MIAMI -- For struggling pitchers, facing the Phillies has become like a pilgrimage to Lourdes.

Another rival pitcher searching for a cure got it Monday night when the Phillies suffered their 23rd loss in the last 29 games. This time it was Miami Marlins right-hander Edinson Volquez. He pitched six shutout innings and allowed just three hits in leading his club to a 4-1 win over the Phillies, who fell to 6-20 in May (see Instant Replay).
Volquez had gone 16 starts between wins.

"Every loss stings, I don't care who's pitching," manager Pete Mackanin said. "We're just in a rut. We've got to battle our way out of it. We have to show up tomorrow and get after it. We've got to get more than three or four hits in the game."

The Phillies had just four hits in the game. It was the fifth time in the last nine games that they've had four or fewer hits. Only one of the hits was for extra bases and one of the singles was an infield hit.

"Once again, we need more offense," Mackanin said.

Phillies starter Jeremy Hellickson completed a difficult month of May by allowing six hits, including a two-run homer, and four runs over six innings.

Hellickson surrendered a two-run homer to Derek Dietrich with two outs in the sixth and that was basically the ball game. Dietrich hit a high changeup. Back in April, that pitch would have been at the knees. But Hellickson has misplaced the pitch command that he needs to succeed.

Hellickson went 4-0 with a 1.80 ERA in five starts in April. In May, however, he went 1-3 with a 7.04 ERA in six starts. He was tagged for 35 hits, including nine homers, in 30 2/3 innings.

"Command in general," said Hellickson, describing his problem this month. "The biggest thing is not getting strike one, falling behind too much. I'm not getting the quick easy outs I was getting early in the season. I'm trying to get ahead, just missing."

Volquez signed a two-year, $22 million deal with the Marlins over the winter, but it wasn't until this game that he delivered his first win. He entered the game 0-7 with a 4.82 ERA in nine starts.

The win was Volquez's first since Aug. 25, 2016, when he was a member of the Kansas City Royals.
Volquez isn't the first struggling pitcher to shine against the Phils recently. Eight days earlier, Pittsburgh's Chad Kuhl took a 6.69 ERA into a start against the Phils and pitched five shutout innings. In the series against Colorado, the Phillies were dominated by a pair of rookies. In the only game they won (in a late rally), they were held to one run over six innings by Tyler Anderson, who had entered that game with an ERA of 6.00. On Friday night, Cincinnati Reds right-hander Tim Adleman pitched eight shutout innings against the Phils and gave up just one hit in the best start of his life. He had come into that game with an ERA of 6.19.

So Volquez had to be heartened when he saw the Phillies on the schedule.

They are the get-well team for pitchers in need of a pick-me-up.

It's actually kind of sad.

With Odubel Herrera locked in the throes of the worst slump of his life and on the bench and Maikel Franco mired in a 2 for 21 slump and hitting .209, Mackanin is trying to push things a little. He gave Aaron Altherr the green light to steal with one out and runners on the corners in a one-run game in the sixth inning. Altherr was out at second on a close play and Tommy Joseph struck out to leave the runner at third.

The Marlins salted the game away in the bottom of the inning on Dietrich's homer.

"With our offense, I have to take chances," Mackanin said. "I can't sit around and wait for three hits in a row. We haven't been doing that."

The Phils have the worst record in the majors at 17-32.

They have lost eight of their last 10 and scored just 15 runs in the losses.

"It sucks," catcher Cameron Rupp said. "There's really no other way to put it. It's frustrating. But the only people that are going to help us are ourselves. Nobody's going to go out there and play for us, swing the bats, pitch, play defense. That's on us and we have to do a better job all around.

"We all want to be successful and get the job done. We just haven't been hitting the ball. There's no other way to put it. But the good thing about baseball is we play every day so we turn the page and come back tomorrow and try to get it done."
Copyright CSNPhily