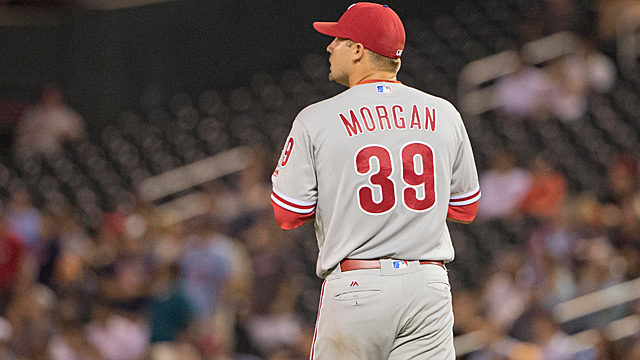 Adam Morgan went to his favorite pitch, the one that has done the most damage in his remarkable second-half run.
Philadelphia Phillies
Complete coverage of the Fightin' Phils and their MLB rivals from NBC Sports Philadelphia.
The changeup was slightly misplaced this time, however, and it cost the Phillies the game.
Asdrubal Cabrera hit a three-run shot in the 11th inning, the first homer allowed by Morgan since July 31, and the New York Mets outlasted the Phils, 7-4, in a four-hour, 10-minute marathon on a brisk and blustery Saturday night at Citizens Bank Park (see observations).
"Tough loss on a cold night," Pete Mackanin said after his second-to-last game as Phillies manager.
The season ends Sunday, after which Mackanin will move into a front office role (see story).
The Phillies' late-season success - they dropped to 15-13 in September - has come thanks to plenty of help from Morgan. After nearly being released in spring training and losing his job as a starter, Morgan has become a valuable lefty out of the bullpen that can get righties out, too.
He came in Saturday night having given up two runs over his past 26 innings with 32 strikeouts. And he was the victim of some tough luck this time.
Morgan gave up a single to Phillip Evans with one out and then saw two pitches that were clear strikes by the computerized strike zone system called balls before walking Nori Aoki. Morgan then struck out Jose Reyes before the switch-hitting Cabrera came to the plate.
The 0-1 changeup rode up in the strike zone, and Cabrera pounced for his 14th home run. Unlike Rhys Hoskins' towering fly in the 10th that died at the warning track thanks to the stiff wind blowing in, Cabrera's line drive made it just far enough to clear the wall in left-center.
"He's had such a great run. He's been very impressive," Mackanin said of Morgan. "He just got a changeup up. I was surprised the ball went out because Hoskins hit that ball probably harder than Cabrera did. But he probably got it up in the air too much and the wind got a hold of it."
Hoskins had tied the game with a two-out, run-scoring single to left in a two-run seventh for his 48th RBI in 49 games.
Maikel Franco's third home run in four games, a solo shot in a two-run second, put the Phillies up 2-0 against Mets starter Seth Lugo.
But Hoskins was the only player to have a hit after the third inning. And this time the bullpen wasn't perfect.
"I'm still going to use it. It's one of my strengths," Morgan said of his changeup. "Moving forward, I'm just going to try to erase that from my memory and keep going."
The Phillies rallied after a rough outing by right-hander Henderson Alvarez, who was making his third start in an audition for a 2018 job. Alvarez, the former NL All-Star with the Marlins who had been out of the majors for two years because of shoulder surgeries, walked six in 4 2/3 innings.
Alvarez, who declined to speak to reporters after the game, was charged with three runs and three hits with no strikeouts. He had a 4.30 ERA in his three starts.
Mackanin removed catcher Jorge Alfaro after he got banged up tagging out Juan Lagares following a great throw by rightfielder Nick Williams in the fifth.
"Alfaro made a great tag, but he hit the back of his head on the ground," Mackanin said. "I just took him out for precautionary reasons. I think he's going to be fine. The doctor checked him."
Alfaro was likely to sit Sunday anyway when Mackanin manages the Phillies for a final time and Morgan hopes to get one more chance.
"I'm real proud, but It's just reality, nobody's perfect," he said. "It was just kind of a bad hit that happened at a bad time. But it's been fun."
Copyright CSNPhily