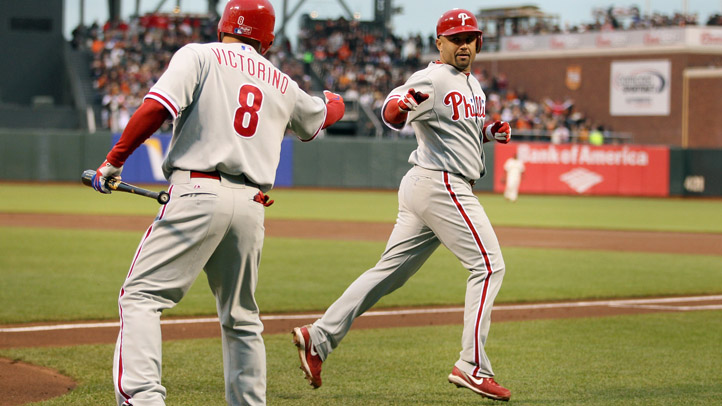 You might have noticed something Monday night around 7 -- that usual time to sit back, relax and enjoy a Phillies game (assuming they don't have the night off).
There were no Phillies on TV.
Where were they? The answer is one of the more delightful aspects of America's Pastime -- they were on the West Coast meaning Phillies games don't start until 10 p.m. most nights this week.
A West Coast swing (something created in the late 1950s as the Giants and Dodgers pulled a Horace Greeley and went west) gives the Phillies -- or any other East Coast team -- an opportunity to change things up, play in a different time and place.
But it can cause problems for fans back home yearning to root for their home team.
If Phillies ace Roy Halladay faces Giants ace Tim Lincecum on a cool April night does it make a sound? For those that go early to bed it likely didn't until Tuesday morning considering the first pitch between the two-time Cy Young Award winners didn't happen until about 10:15 p.m. EST.
For many people 10 p.m. on the first night of the work week is just too late.
But for this writer a West Coast swing is one of my favorite joys of the long baseball season. Of course, a trip to L.A., Frisco and San Diego is most welcomed during the dog days of summer but early in the season it's fun too. The West Coast swing gives us Phillies fans the opportunity to just enjoy a game without many of the usual distractions. You can go to dinner with your special someone, check out your kid's play, play a beer-league softball game, do some gardening, go for a run, run some errands, etc. and be home in time for first pitch.
Of course being a night owl (like me) also helps.
The morning after a wild game (not unlike at least the first few innings of the Phillies 5-2 win Monday night) it's almost like a rite of passage if you can boost to your friends that you stayed up to watch the whole game -- work be darned.
So over the next few nights enjoy the West Coast swing as an opportunity to curl up on the couch to watch the Phillies play the National League West's best. And if late nights aren't for you at least Saturday Halladay takes the hill in San Diego at 8:35 p.m. EST.