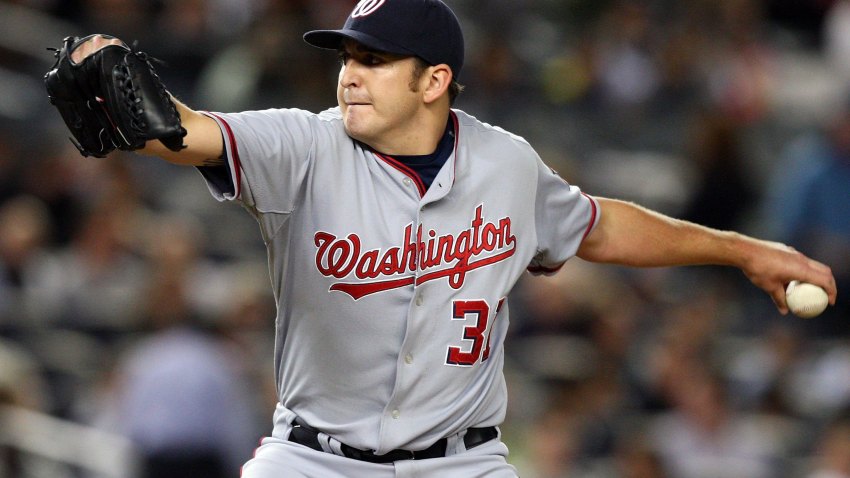 The Phillies added another starting pitcher to their rotation on Saturday, when they signed LHP John Lannan to a one-year deal, according to Jim Salisbury of CSNPhilly.com. The contract will pay Lannan $2.5 million in 2013.
After the Phillies traded starting pitcher Vance Worley to acquire outfielder Ben Revere, Ruben Amaro has been on the hunt for another starting pitcher to fill out the rotation. And without a lot of room to maneuver, payroll-wise, they had to relegate themselves to more financially feasible options without having to sacrifice a great deal of effectiveness.
Lannan, who most remember from breaking Chase Utley's hand with an errant pitch in 2007, certainly fits that bill. The 28-year-old, who spent his entire career with the Washington Nationals, has a lifetime 4.01 ERA in 134 starts, with a 4.7 K/9 and a 3.9 BB. He's not the most dominant starter (he strikes out batters at a rate similar to Kyle Kendrick), but he can be effective, thanks to him being very good at inducing ground balls. Over the course of his career, over 50 percent of balls put in play against Lannan have been on the ground.
He might not be the most ideal pitcher to round out the rotation in 2013, but with very few options internally, and an off-season that seems to be very beneficial to free agent starting pitchers, the Phillies got a good deal when they inked the lefty.
While he won't be able to be as effective as Cole Hamels, Roy Halladay or Cliff Lee, this signing was about acquiring quality innings at the back-end of the rotation at a decent cost. And at $2.5 million, Lannan doesn't need to be an ace; He just needs to be good enough.