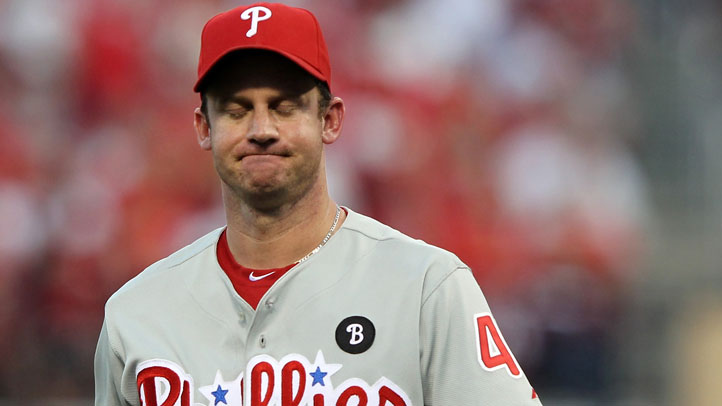 At some point, Roy Oswalt will make a decision about where he wants to pitch, and there's a reasonable chance that said place could be Philadelphia (again).
Or perhaps more accurately, the Phillies may be most inclined to throw Ole Roy some cash to get him back into the rotation.
That's mainly because of the terrifying potential injury that Roy Halladay, who left his most recent start with shoulder soreness, could be dealing with.
As Dash pointed out on Monday, the best case is that Halladay simply keeps pitching, but Phillies fans have to be prepared for life without Doc. And Oswalt is one of the options to fill that role.
According to Jon Heyman of CBSSports.com, the Phillies are one of four favorites in the running to land Oswalt as a free agent.
Among Oswalt's other suitors are the Rangers, Red Sox and ... the Orioles? Of course, that Orioles joke would be a lot more amusing if Baltimore, at 29-19, didn't have the best record in the AL East (and the same record as the NL East-leading Nationals).
Heyman believes that Texas "probably remains the most logical team for Oswalt," but that the free-agent pitcher may want too much money to warrant an investment from the Rangers.
According to Ken Rosenthal of FoxSports.com, Oswalt wants a pro-rated $7.5 million salary. And that payday, according to both Rosenthal and Heyman, now trumps geography, which is typically a pretty big sticking point for Oswalt when negotiating with teams.
The Phillies have a couple advantages in pursuing Oswalt too. He's clearly comfortable pitching in Philadelphia, they have a clear-cut need for pitching and they are the only real rumored suitor that plays in the pitcher-friendly National League (both Boston and Baltimore reside in the hitter-heavy AL East).
Additionally, the Phils are still very much in the hunt for a playoff spot. Though they've endured a rough few months to start the season, they're just four games back of the lead in the National League East.
Of course, if the worst-case scenario comes to fruition and Doc is in fact hurt, the irony is that the very thing that causes the Phils to need Oswalt could end up driving him away.